Carlos Santana
Rock

Carlos Santana
Overview
Products
Instruments
Videos
Related Profiles
His clean, languid leads lines are unmistakeable, Carlos Santana has led a long career as one of the most distinguished guitarists with a highly individual Latin style. Frequent appearances at the Fillmore West in San Francisco led to a storied set on the Woodstock stage in 1969, launching him into the 1970s with a bang.
Mixing blues with latin & jazz fusion flavors, played with a band which included multiple percussionists and a horn section, Santana's music became infused with spirituality. The albums Abraxas, Santana III, Caravansarai, Winning and Supernatural marked high points in a career which spans over 50 years.
Carlos Santana first came to strobe tuning during the 1970s as a tip from Eric Clapton, he currently uses a Peterson AutoStrobe 490.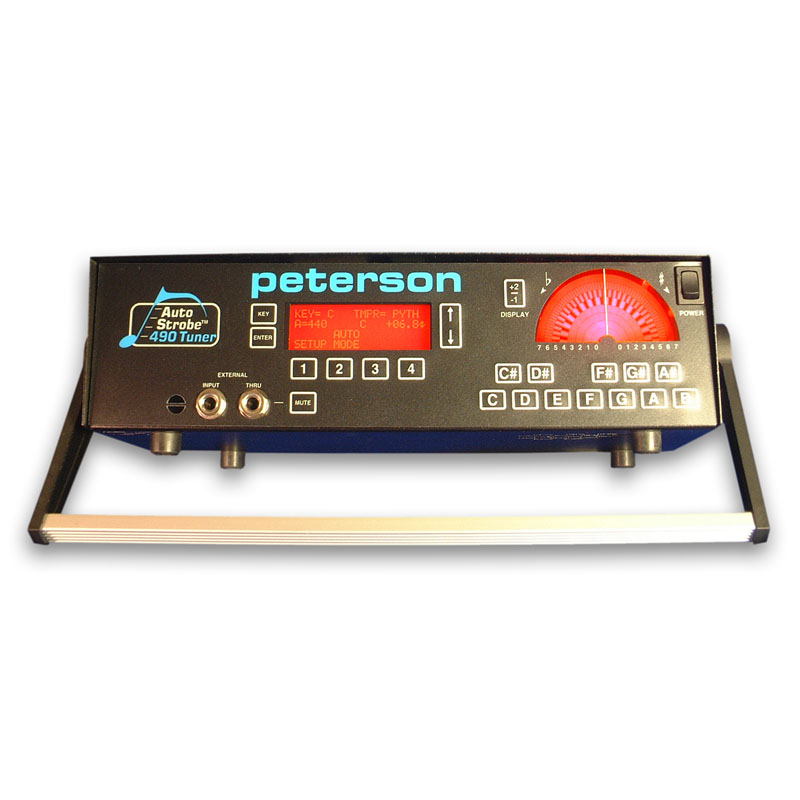 AutoStrobe 490
$950.00 - $970.00
The Peterson AutoStrobe 490 is agreed by music students, technicians, and professionals to be the standard by which all tuners are measured. Only Peterson could bring you the kind of real- time intonation critical enough for ear training use. Enjoy hands-free note selection for fast, accurate tuning of instruments. Other companies may boast of their strobe tuner capabilities, but buyer beware! The AutoStrobe 490 is a truly stroboscopic mechanical tuner capable of fundamental and overtone display. Key features include mutable throughputs for in-line (yet silent) tuning during performances, automatic image clarity and contrast control which internally compensate for optimal viewing over a wide range of source pitch and volume, improved clarity for upper and lower register notes (our +2/-1 display feature shifts the strobe patterns into more visible middle ranges so that bass note patterns can be displayed two octaves higher and treble note patterns can be displayed one octave lower in strobe display), and easy transposition (strobe patterns appear at the correct note for Bb, F, and Eb instruments).
MORE
CARLOS SANTANA'S GUITAR TECH IN PARIS 2016
Rig Rundown - Carlos Santana
Here are a few more Peterson users who work with similar instruments and products.
Need Help?
Select a maximum of 4 products to compare.