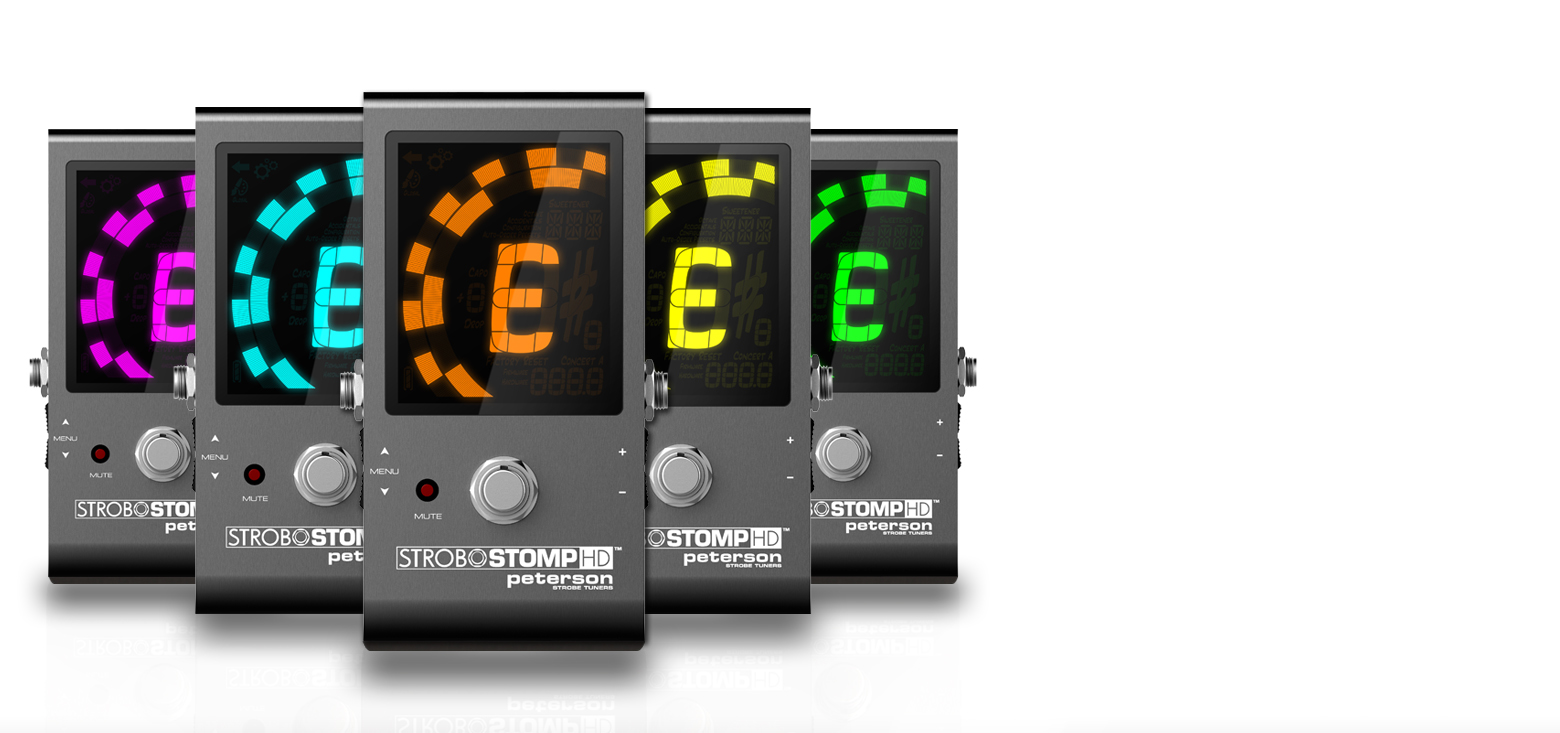 StroboStomp HD
New for 2019 - Compact pedal strobe tuner with pop-less true bypass and buffered output modes. Variable color, LED backlight for maximum visibility in any setting and total personalized control.
StroboStomp HD
Overview
Specifications
Reviews
Support
Featuring the largest tuning display Peterson Tuners has ever incorporated into one of their pedal tuners, the StroboStomp HD boasts a high-definition, LCD screen that incorporates a variable color LED backlight. The user-selectable colors can be used to personalize the tuner or to increase display viewing quality in different levels of ambient lighting depending on the usage environment. The vibrant screen colors can also be assigned to stock or user presets to significantly reduce menu navigation time and increase on-stage tuning confidence at the gig.
For tone purists, the StroboStomp HD provides a 100% silent, true-bypass operation mode to keep precious tone safe, as well as, eliminate the often annoying "pop" experienced when engaging such a feature in other products. It uses a unique series of timed relays incorporated within its circuitry to shunt the signal, draining the cause of the popping sound prior to breaking the connection, and effectively shutting the tuner down for direct play through without affecting tone quality.
The StroboStomp HD also includes a long-time, user-requested buffered output operation mode that can be user engaged. The buffered mode can be used in or out of monitor mode. It is designed to boost instrument drive to overcome potential tone loss in signal chains that incorporate multiple low-impedance guitar pedals or those that utilize long cable runs. The buffered output modes preserve sonic quality all through the instrument range and keep prized core tone intact.
The StroboStomp HD features over 100 exclusive Sweetened Tunings™, as well as, numbered guided tuning presets for a large variety of instruments and playing styles. Sweetened Tunings are exclusive to Peterson tuning products and are designed to help correct inherent tuning issues exhibited by many instruments. The new "Guided Tunings" mode allows the StroboStomp HD to display numeric string values instead of traditional note names making for sure-fire intuitive and rapid re-tuning to any number of open and alternative tunings. The Guided Tuning mode was instituted for beginners who want to experiment with popular alternate tunings, as well as, experienced players who employ multiple tunings in rapid succession. Numerically expressed scales are also included.

Pure Buffer Mode Operation
Does your love for effect-driven musical chaos require a massive pedal board? Need that XL cable for jumping off the stack during your face melting solo?
No problem.
The StroboStomp HD features a PURE buffer mode to preserve the sonic clarity of your axe while enabling you to run a collection of pedals and long cable lengths without compromise.

100% Pop-less True Bypass
We've redesigned and greatly improved the way incoming signal was handled in true-bypass mode to deliver a perfectly silent experience when muting your signal.
A dual relay circuit effectively bleeds out any incoming signal before powering the tuner down resulting in a silent transition with affecting tone quality.

We All See Color Differently
The LCD display on the StroboStomp HD is easy to see in bright lighting condtions but the LED backlight color is user-adjustable to suit your particular viewing preference.
Globally change the display color for all functions or choose to associate colors with specific tunings for easy and quick identification at the gig.
Create custom colors on Peterson Connect™ or use any of the 10 preset colors to organize your preset tuning list.
Power Supply: Optional (9VDC Negative Center Pin)
DI: No
Peterson Connect Compatible: Yes
Note Range: C0 - A#8
Note Selection: Automatic
Firmware Updateable: Yes
Guided Tunings: Yes
Multi-Color Display: Yes
Buffered Mode: Yes
True Bypass: Yes
Form Factor: Pedal / Floor
Accuracy: 0.1 Cents
Display Type: LCD w/ LED Backlight
Display Resolution: 417 Segments
Construction: Stainless Steel
Product Dimensions LxWxH: 129mm x 66mm x 54mm ( with switch )
Product Weight: .875lb (14oz)
USB Port: Yes
USB Type: Micro
Rechargeable: No
Battery Type: 9V (Included)
Power: 9VDC 85mA (Nominal)
Built-In Microphone: No
Built-In Speaker: No
Headphone Jack: No
Inputs: 1/4" Mono
Outputs: 1/4" Mono
Mute-able Output: Yes
Concert A Range: 390Hz to 490Hz
Transposition Range: -6 to +5
Frequency Response Range: 16.35Hz to 7302Hz
Warranty: 3 Years
Sweetened Tunings: Over 60
User Presets: Unlimited
This product has not yet been reviewed. Be the first to write a review!
Frequently Asked Questions
How do I read a strobe display?
Basically, the strobe image appears to travel to the left if your instrument is flat of the desired pitch and to the right if it is sharp. On earlier models such as the StroboStomp 1, StroboStomp 2, VS-1, VS-II and V-SAM, the strobe image travels upward if your instrument is sharp and downward if your instrument is flat of the desired pitch.
Adjust your instrument until the pattern is as close to still as possible. Strobe displays are 'real-time' and extremely high definition. They require very precise tuning adjustments to stop the display because the frequency/pitch of any instrument is never totally stable.
You'll quickly learn to read the display, make the most precise adjustments and appreciate the high resolution that only a Peterson provides.
Was this helpful?
Help others find this information sooner.
Is the accuracy the same for all Peterson tuners?
Yes, the accuracy is within 0.1 cents (1/1000 of one semitone) as with all Peterson Strobe Tuners. An important thing to note is that Peterson Strobe Tuners have ultra high definition displays, so not only are they highly accurate in detecting a note but they have the ability to display that accuracy. Other products claim accuracy but do not have the high definition screen to display the level of accuracy in which they claim. If you cannot see the accuracy, it is of little value. Only Peterson provides High Definition Strobe Tuning.
Was this helpful?
Help others find this information sooner.
What is my 's Sweetened Tunings feature all about?
A Sweetener is a set of cent offsets or a deviation from generic Equal Temperament interval spacing traditionally used in tuning. Tuners made by Peterson, including the
, contain many choices of "Sweetness", in other words, several presets with differing interval spacing relevant to the instrument being tuned. If you've never been happy with how your instrument tunes up with your present tuner, a Sweetener could be just the thing to change that without any modifications whatsoever. The offers unique and very accurate "tweaks" which often make all the difference, try it!
Was this helpful?
Help others find this information sooner.
Is there a carrying case available?
We have carrying cases available that are very useful if you will be frequently traveling with your Peterson tuner. You may purchase your case directly from us at Peterson. Cases are available for the AutoStrobe™ line and the StroboClip HD. The StroboPLUS HD comes with packaging that has been designed to protect your tuner.
Was this helpful?
Help others find this information sooner.
Does my tuner require calibration?
Generally, your tuner will not require calibration and should remain perfectly accurate if it has not been damaged.
Unlike more modern Peterson strobes, legacy models such as the Peterson 400, 420, 450 and 700 do require occasional calibration.
If you require service, please open a support ticket and return the tuner for repair.
Was this helpful?
Help others find this information sooner.
There are no entries matching your search.
Not finding an answer? Open a support ticket for personalized support of your Peterson product.
Not finding an answer? Open a support ticket for personalized support of your Peterson product.
Firmware Revision History