Steve Bailey

Steve Bailey
Overview
Products
Instruments
Videos
Related Profiles
According to Bass Player Magazine, "Steve Bailey is to the 6 string fretless bass what Christopher Columbus was to America".
You may have heard Steve with Dizzy Gillespie... or the Rippingtons.... or Larry Carlton.....or Kitaro... or Willie Nelson... or Jethro Tull...or.......... well, the list goes on.
Through the 80's and 90's Steve could be heard on a variety of recordings, from movie soundtracks to TV commercials. He toured and recorded with a variety of Artists, playing Jazz, Rock, Country, New Age,... whatever! All of these divergent elements can be heard in his unique solo style.
Teaming up with Victor Wooten (probably the most influential bassist of the decade) in 1993, they formed Bass Extremes, a cutting edge Bass-Duo that has released critically acclaimed cd's and dvd's for the last 14 years.
So Low.... Solo, will offer the listener a new perspective on bass playing. Completely without "stacked tracks" or overdubs, Steve teams with legendary hand drummer Robert Thomas Jr. (of Weather Report fame) and creates a duo that can sound like an orchestra. Steve's innovative artificial harmonic techniques, chordal voicings, and multi-timbre polyphonic pyrotechnics combine to make a very listenable, soothing, musical experience.
Victor Wooten says it best on the cd cover... "So Low...........Solo, the new CD from Steve Bailey, is finally here. The sound he produces from his six string fretless bass is so beautiful and unique that I have been asking him (pressuring him to be exact) to record this music for years. Your ear will tell you that there is no way he could have produced all of this music with one bass and no overdubs (I know that he did,) but the smile of your soul will tell you that it doesn't matter."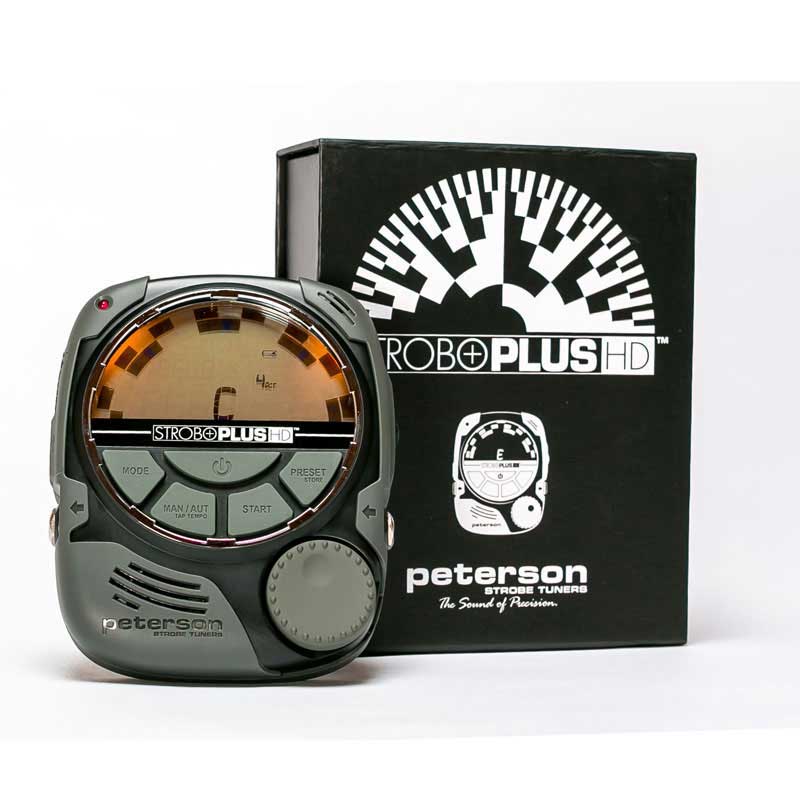 StroboPLUS HD
$149.99
The Peterson StroboPlus HD (SP-1) is THE premier desktop digital tuner on the market! Equally as comfortable on a tech's workbench as it is in a player's guitar case, this tuner, with all of its features, is no exception to Peterson's reputation for being THE most accurate in the industry — don't let its demure palm size fool you! Players of both acoustic and electric instruments can rest assured— a built-in electret condenser microphone and ¼" input jack provide excellent connectivity. Gone are the days of having to carry extra batteries and tripping over power cables during a performance! This tuner is rechargeable via computer bus or outlet power, and its large, circular screen is easily viewed in both the darkest and brightest environmental conditions. Features such as Auto Off, easy menu navigation, tripod mounting capability, over 90 of our Sweetened Tunings, tone generation ability via built in speaker, and a headphone output jack round out the package. Finally, future-proof updating and parameter editing is made possible by the tuner's unobtrusive side-mounted USB jack. And for those feeling exceptionally adventurous, this tuner can be upgraded to also feature our super flexible Body Beat metronome option, along with both audible AND tactile mode operation. Hear the beat or feel it…the power is in your hands. This tuner is fit for the most discerning of players and technicians for sure!
MORE
Steve Bailey and Victor Wooten with the Peterson Body Beat
Steve Bailey and Victor Wooten Peterson Tuners
Here are a few more Peterson users who work with similar instruments and products.
Need Help?
Select a maximum of 4 products to compare.