Blue Moon Rising
Bluegrass
"It's really easy to stand behind a product that you believe in!"

Blue Moon Rising
Overview
Products
Instruments
Videos
Related Profiles
Blue Moon Rising is a national touring band based out of East Tennessee comprised of Chris West (lead vocals and guitar); Tony Mowell (bass and vocals); Brandon Bostic (mandolin, guitar, vocals); and Owen Piatt (banjo.) In 2010, the band will celebrate the release of their fifth career album on L.A. based Rural Rhythm Records. The band garnered international recognition with the release of their third album, "On the Rise" (Lonesome Day Records) that proved to be a symbolic title for the group as the album debuted at #14 on the BILLBOARD Top 50 Bluegrass Chart in 2005. "On the Rise" received tremendous recognition including, but not limited to, "CMT.com Top 10 Bluegrass Albums" and "Gritz Magazine's Top Overall Albums" of 2005." "On the Rise" spent ten months on Bluegrass Unlimited Magazine's Bluegrass National Survey Top 15 Album Chart and the single, "This Old Martin Box" spent the entire 2006 calendar year in the Top 30 Singles. IBMA members honored the group with a 2006 nomination for Emerging Artist of the Year with band leader, Chris West performing in the 2006 IBMA Songwriter's Showcase.
Fans had eagerly awaited their July 2008 release of their fourth album, "One Lonely Shadow (Lonesome Day Records) and were not disappointed. The album highlights the band's ability to perform their original well-crafted bluegrass songs and also throwing in a few surprises to the mix. "One Lonely Shadow" is still receiving significant airplay and chart success including impressive airplay on Sirius-XM and other popular stations around the world.
Blue Moon Rising is lead by the multi-talented guitarist and acclaimed songwriter, Chris West, who writes many of the band's songs. His original tunes have become the signature sound of the band, including fan favorites: The Hanging Tree, Crime I'm Guilty Of, The Old Time Preacher Man, Good Time for Going Home, Revival, He Arose, and so many more. Simply put, this band has it all. They play well, sing well, and write well…Blue Moon Rising is the complete package.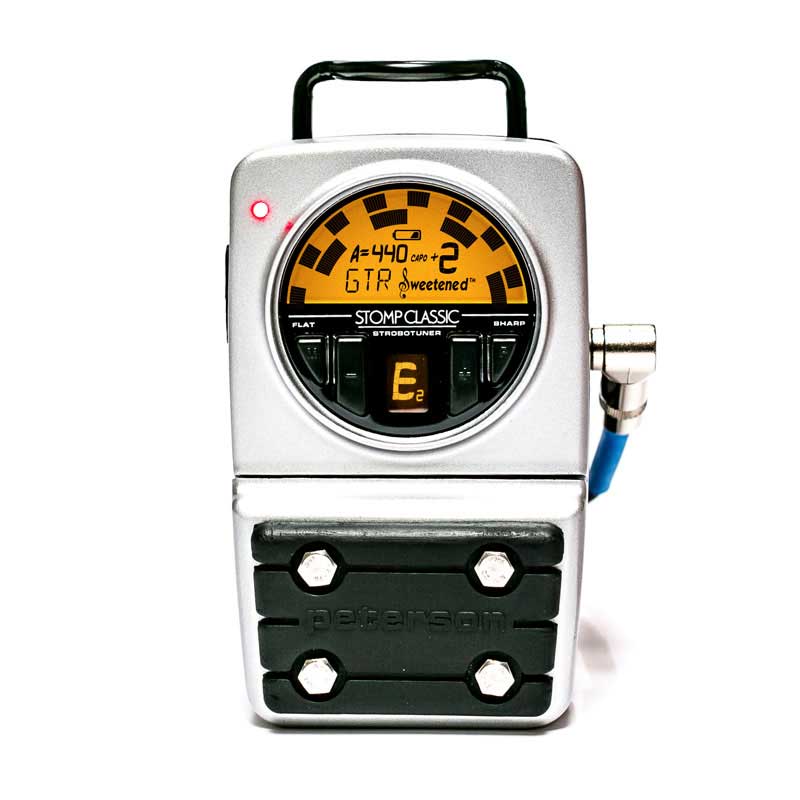 Stomp Classic
$199.00
The Peterson VSS-C StroboStomp Classic Tuner is the most fully-featured pedal tuner made by anyone to date. A high-contrast LCD screen makes this tuner the perfect choice for both indoor and outdoor use as well as for anywhere that lighting conditions are less than ideal. Integrated, fold out, steel mounting lugs at the unit's bottom rubberized plate keep it in place on your pedal board without unsightly tape or messy adhesives. Its ultra-robust die-cast chassis and Switchcraft brand input/output jacks assure a quality tuning even after the roughest of voyages. Also, its unique quick- release battery-access door steers you far away from having to deal with delicate, easily broken, battery lead wires. Battery changes are a breeze! The professional-quality active DI on board is mutable and lets you select one of three stages of signal attenuation—all while remaining 100% true bypass. Finally, the tuner's side mounted USB jack makes your unit future-proof and custom tailored to be exactly what you need it to be by allowing Mac or PC connectivity for updates and unit user programming/modifications.
MORE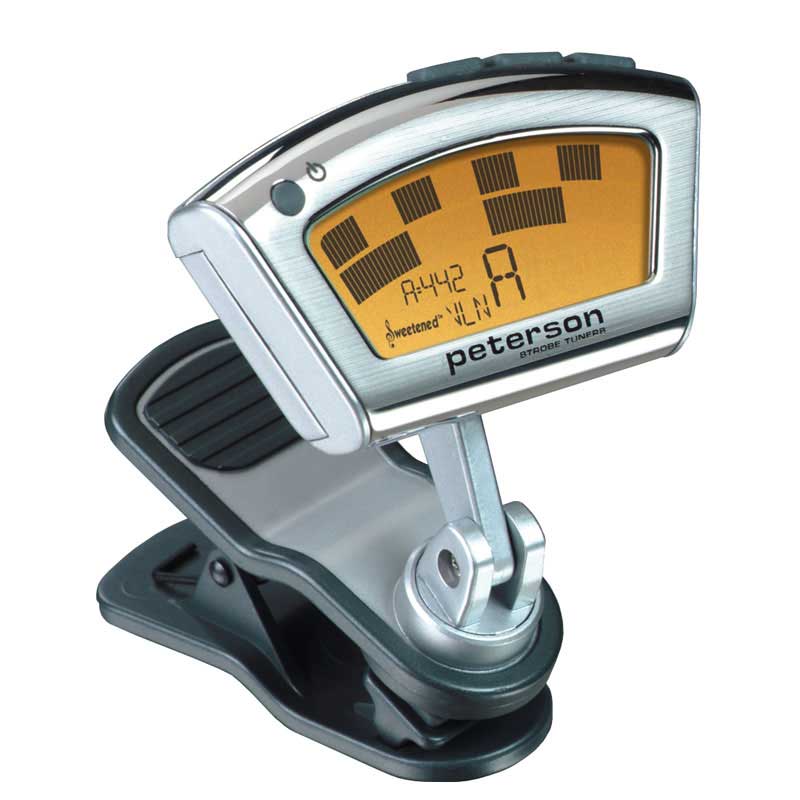 Peterson Tuners at IBMA - Blue Moon Rising
Here are a few more Peterson users who work with similar instruments and products.
Need Help?
Select a maximum of 4 products to compare.