Blue Moon Rising
Bluegrass
"It's really easy to stand behind a product that you believe in!"

Blue Moon Rising
Overview
Products
Instruments
Videos
Related Profiles
Blue Moon Rising is a national touring band based out of East Tennessee comprised of Chris West (lead vocals and guitar); Tony Mowell (bass and vocals); Brandon Bostic (mandolin, guitar, vocals); and Owen Piatt (banjo.) In 2010, the band will celebrate the release of their fifth career album on L.A. based Rural Rhythm Records. The band garnered international recognition with the release of their third album, "On the Rise" (Lonesome Day Records) that proved to be a symbolic title for the group as the album debuted at #14 on the BILLBOARD Top 50 Bluegrass Chart in 2005. "On the Rise" received tremendous recognition including, but not limited to, "CMT.com Top 10 Bluegrass Albums" and "Gritz Magazine's Top Overall Albums" of 2005." "On the Rise" spent ten months on Bluegrass Unlimited Magazine's Bluegrass National Survey Top 15 Album Chart and the single, "This Old Martin Box" spent the entire 2006 calendar year in the Top 30 Singles. IBMA members honored the group with a 2006 nomination for Emerging Artist of the Year with band leader, Chris West performing in the 2006 IBMA Songwriter's Showcase.
Fans had eagerly awaited their July 2008 release of their fourth album, "One Lonely Shadow (Lonesome Day Records) and were not disappointed. The album highlights the band's ability to perform their original well-crafted bluegrass songs and also throwing in a few surprises to the mix. "One Lonely Shadow" is still receiving significant airplay and chart success including impressive airplay on Sirius-XM and other popular stations around the world.
Blue Moon Rising is lead by the multi-talented guitarist and acclaimed songwriter, Chris West, who writes many of the band's songs. His original tunes have become the signature sound of the band, including fan favorites: The Hanging Tree, Crime I'm Guilty Of, The Old Time Preacher Man, Good Time for Going Home, Revival, He Arose, and so many more. Simply put, this band has it all. They play well, sing well, and write well…Blue Moon Rising is the complete package.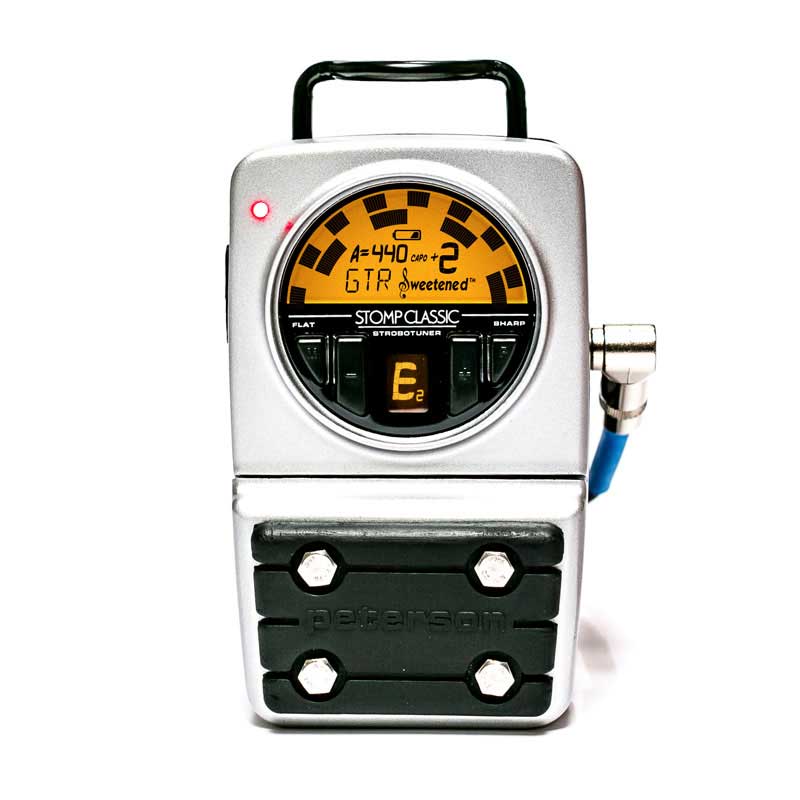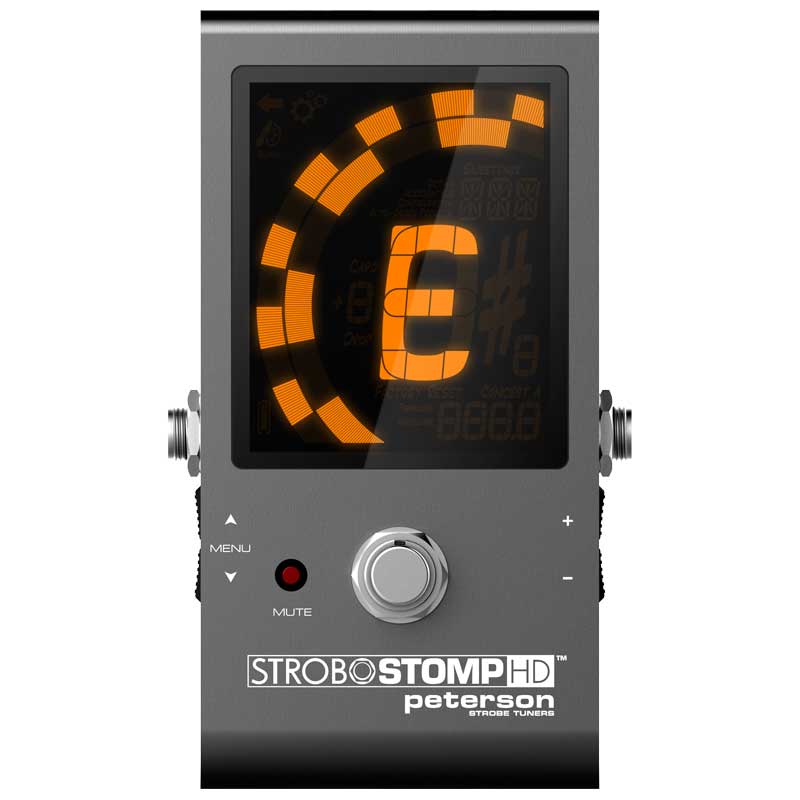 StroboStomp HD
$149.00
Featuring the largest tuning display Peterson Tuners has ever incorporated into one of their pedal tuners, the StroboStomp HD boasts a high-definition, LCD screen that incorporates a variable color LED backlight. The user-selectable colors can be used to personalize the tuner or to increase display viewing quality in different levels of ambient lighting depending on the usage environment. The vibrant screen colors can also be assigned to stock or user presets to significantly reduce menu navigation time and increase on-stage tuning confidence at the gig. For tone purists, the StroboStomp HD provides a 100% silent, true-bypass operation mode to keep precious tone safe, as well as, eliminate the often annoying "pop" experienced when engaging such a feature in other products. It uses a unique series of timed relays incorporated within its circuitry to shunt the signal, draining the cause of the popping sound prior to breaking the connection, and effectively shutting the tuner down for direct play through without affecting tone quality. The StroboStomp HD also includes a long-time, user-requested buffered output operation mode that can be user engaged. The buffered mode can be used in or out of monitor mode. It is designed to boost instrument drive to overcome potential tone loss in signal chains that incorporate multiple low-impedance guitar pedals or those that utilize long cable runs. The buffered output modes preserve sonic quality all through the instrument range and keep prized core tone intact. The StroboStomp HD features over 100 exclusive Sweetened Tunings™, as well as, numbered guided tuning presets for a large variety of instruments and playing styles. Sweetened Tunings are exclusive to Peterson tuning products and are designed to help correct inherent tuning issues exhibited by many instruments. The new "Guided Tunings" mode allows the StroboStomp HD to display numeric string values instead of traditional note names making for sure-fire intuitive and rapid re-tuning to any number of open and alternative tunings. The Guided Tuning mode was instituted for beginners who want to experiment with popular alternate tunings, as well as, experienced players who employ multiple tunings in rapid succession. Numerically expressed scales are also included.
MORE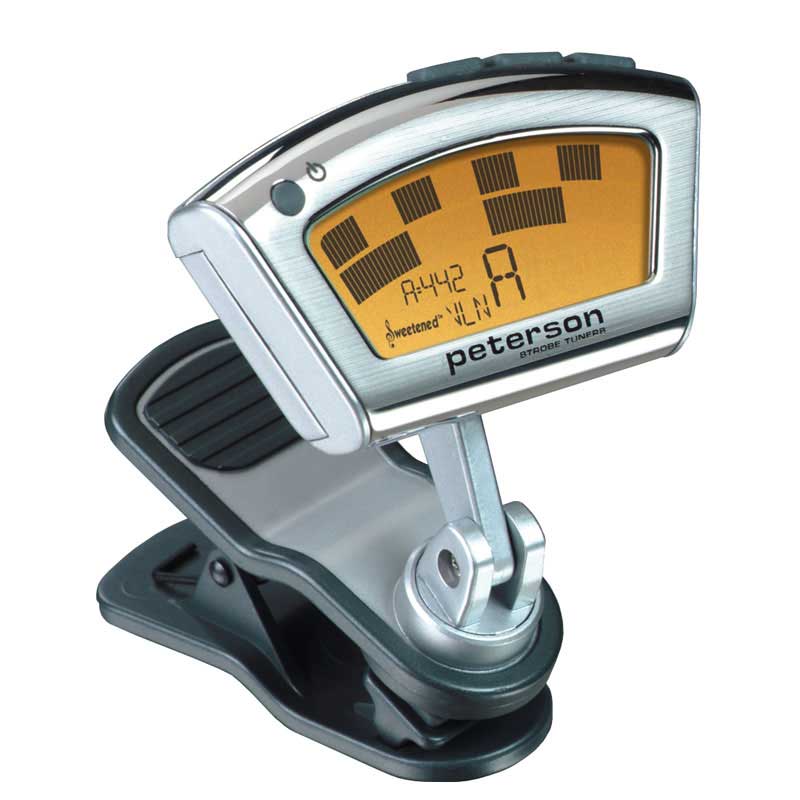 Blue Moon Rising - "My Sittin' Window"
Peterson Tuners at IBMA - Blue Moon Rising
Here are a few more Peterson users who work with similar instruments and products.
Need Help?
Select a maximum of 4 products to compare.