Dave Murray
Overview
Products
Instruments
Videos
Related Profiles
Dave Murray has played guitar with Iron Maiden, a paragon of the New Wave Of British Heavy Metal since 1976. Hits like "Run to the Hills" and "Number of the Beast" have made them firm favorites with Metal fans worldwide. The band is also unique for owning a Boeing 747 flown by lead singer Bruce Dickinson which they use to move band, personnel and equipment on their tours around the world. Dave Murray plays Fender and Gibson guitars, and even owns one of the late Free guitarist Paul Kossoff's Gibson Les Paul guitars. His guitar tech, Colin Price, trusts Peterson with the nightly tuning of Dave's guitars. Tuning accuracy and stability is crucial in a band like Iron Maiden where there are three lead guitarists who regularly solo together in harmony. Needless to say, all three are tuned using a Peterson!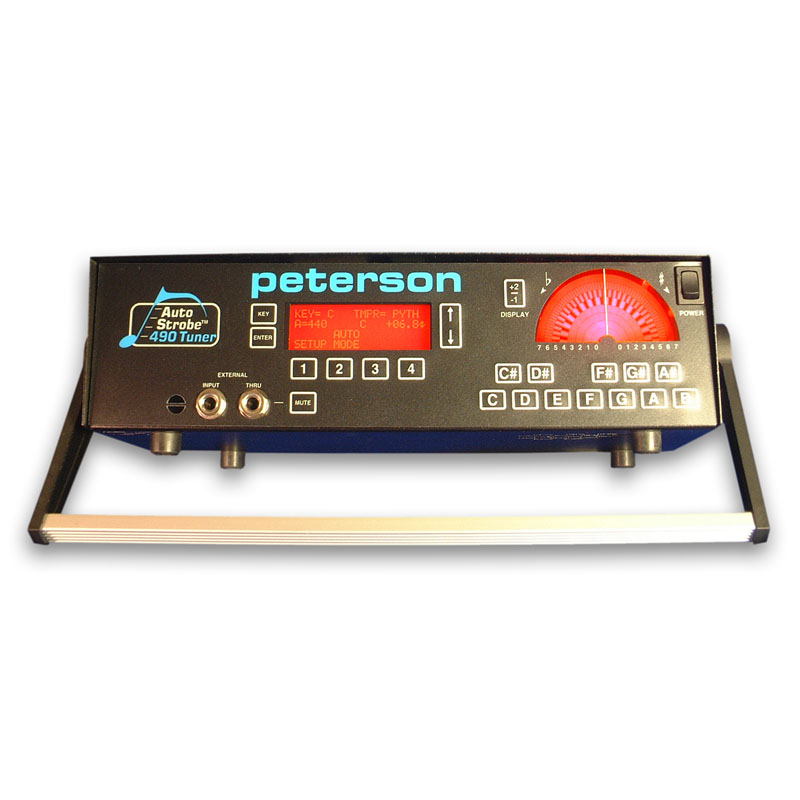 AutoStrobe 490
$950.00 - $970.00
The Peterson AutoStrobe 490 is agreed by music students, technicians, and professionals to be the standard by which all tuners are measured. Only Peterson could bring you the kind of real- time intonation critical enough for ear training use. Enjoy hands-free note selection for fast, accurate tuning of instruments. Other companies may boast of their strobe tuner capabilities, but buyer beware! The AutoStrobe 490 is a truly stroboscopic mechanical tuner capable of fundamental and overtone display. Key features include mutable throughputs for in-line (yet silent) tuning during performances, automatic image clarity and contrast control which internally compensate for optimal viewing over a wide range of source pitch and volume, improved clarity for upper and lower register notes (our +2/-1 display feature shifts the strobe patterns into more visible middle ranges so that bass note patterns can be displayed two octaves higher and treble note patterns can be displayed one octave lower in strobe display), and easy transposition (strobe patterns appear at the correct note for Bb, F, and Eb instruments).
MORE
Iron Maiden Behind The Beast
Here are a few more Peterson users who work with similar instruments and products.
Need Help?
Select a maximum of 4 products to compare.