Andreas Kisser
Overview
Products
Instruments
Related Profiles
Andreas 'Sepulculo' Kisser, is the guitarist for the legendary metal band Sepultura. He has also appeared in projects such as No Coração dos Deuses, Sexoturica, Roadrunner United, Quarteto da Pinga and Asesino, as well as having produced Hammerhead's Shadow Of A Time To Be, Necromancia's Check Mate and Sayowa's self-titled second album, Sayowa. He released his first solo album entitled 'Hubris I & II' on Mascot Records. Born August 24th 1968 in São Bernardo do Campo, Brazil to a Yugoslavian mother, from Maribor, Slovenia and a German father, Kisser was originally a roadie for founding vocalist/guitarist Max Cavalera. He was asked to join the band following the departure of the original lead guitarist. He is largely responsible for bringing a more progressive sound to the band starting with the Schizophrenia album (1987). He studied classical guitar for several years before joining Sepultura.
Performing in bands since 1983, Andreas Kisser joined Brazilian metal superstars Sepultura as their lead guitarist in 1987.
Fourteen albums, countless world tours with Sepultura as well as numerous guest spots with Anthrax, Biohazard, Krusader, Scorpions and even a stint in Brazilian Beatles cover band Clube Big Beatles point to Andreas' versatility.
Naturally, there's a Peterson AutoStrobe 490 monitoring his tuning at all times.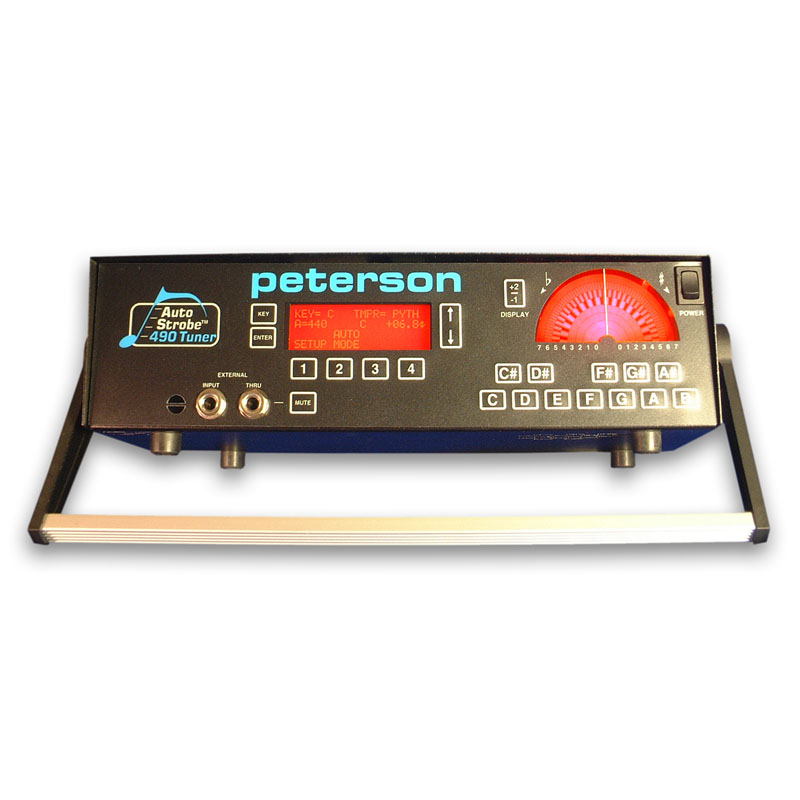 AutoStrobe 490
$950.00 - $970.00
The Peterson AutoStrobe 490 is agreed by music students, technicians, and professionals to be the standard by which all tuners are measured. Only Peterson could bring you the kind of real- time intonation critical enough for ear training use. Enjoy hands-free note selection for fast, accurate tuning of instruments. Other companies may boast of their strobe tuner capabilities, but buyer beware! The AutoStrobe 490 is a truly stroboscopic mechanical tuner capable of fundamental and overtone display. Key features include mutable throughputs for in-line (yet silent) tuning during performances, automatic image clarity and contrast control which internally compensate for optimal viewing over a wide range of source pitch and volume, improved clarity for upper and lower register notes (our +2/-1 display feature shifts the strobe patterns into more visible middle ranges so that bass note patterns can be displayed two octaves higher and treble note patterns can be displayed one octave lower in strobe display), and easy transposition (strobe patterns appear at the correct note for Bb, F, and Eb instruments).
MORE
Here are a few more Peterson users who work with similar instruments and products.
Need Help?
Select a maximum of 4 products to compare.