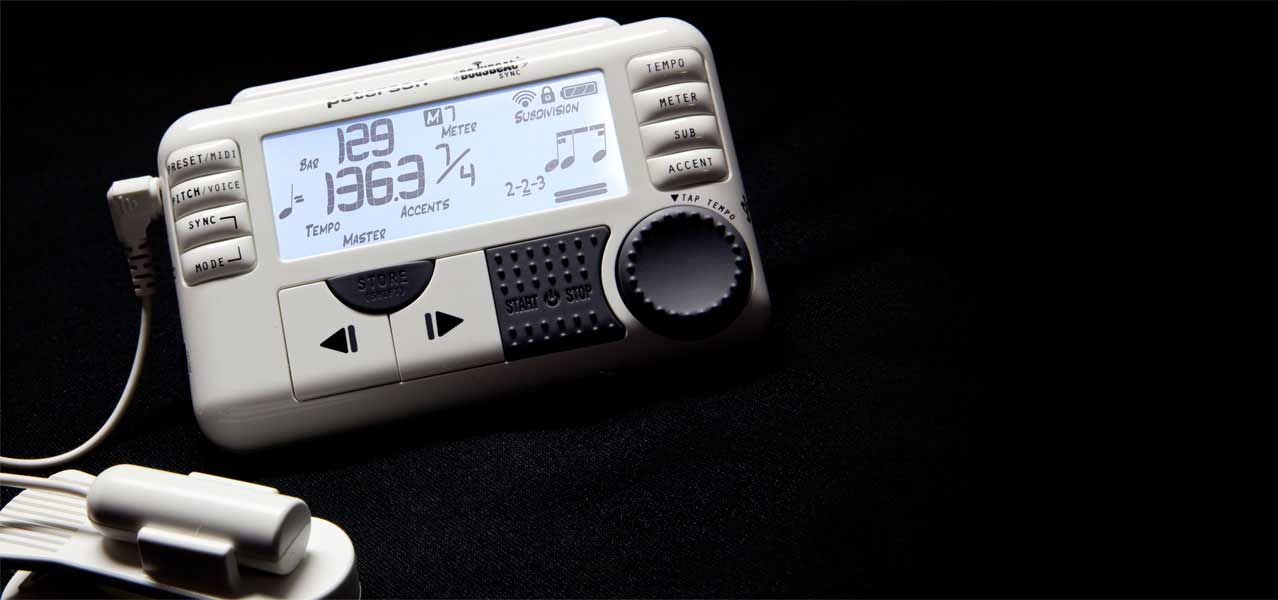 Body Beat Sync
The World's Most Versatile Metronome
The Body Beat Sync allows you to hear, see, and FEEL the beat of the music. You can even wirelessly connect multiple units to have perfect performance synchronization with your fellow musicians!
Body Beat Sync
Overview
Specifications
Reviews
Support
Related Products
Downloads

This is so well designed. Like the IPhone of metronomes. It clips comfortably on the belt or pocket and is just a joy to use. The first day I got it I accompanied a 50 piece choir that tends to speed up and slow down quite a bit. With the vibrating clip I was able to hold a steady tempo and not lose a beat when pushing and pulling against the big ensemble. I am very excited about buying another on ...

- Nathan
Peterson: BodyBeat Sync Metronome Intro (Official)
Updating The Firmware on a Peterson BodyBeat Sync
Peterson BodyBeat Sync: University of Central Florida (UCF) Trials
BodyBeat Sync Firmware Update 1.2.0 Peterson
BodyBeat Sync Firmware Update 1.3.0 Peterson
The Body Beat Sync® represents the ultimate in musical tempo reference devices. As a fully featured metronome, it is capable of transmitting the beat by visual, aural and tactile means. Wireless functionality allows two or more Body Beat Syncs to work in synchronicity with one another, allowing the networking of multiple units on stage, in the recording studio, band room or anywhere the precise synchronization of a performance and its performers is required.
The Body Beat Sync can store up to 100 user presets consisting of tempo, meter, subdivision and accent pattern. All preset information is transmitted to each synchronized unit as well as the current bar count of the active preset. If the 100 user presets do not provide enough versatility, the "tempo map" from an entire musical score can be stored in the Body Beat Sync via the mini USB cable. A standard MIDI file can be used or a custom "tempo map" can be designed via the free application on the Body Beat Sync website.
Additionally, the Body Beat Sync can be driven by a DAW using MIDI Clock via the mini USB cable.
The mini USB connection is not only used to charge the Body Beat Sync, but provides a means for always keeping the unit's firmware current. You will never need another metronome!

ENDLESS COMBINATIONS
The Body Beat Sync features a complex metronome engine capable of producing endless combinations of rhythmic patterns. Meter or Time Signature parameters are independently adjustable allowing 1 - 12 beats per measure over a beat value of 2, 4, 8 or 16. Subdivision selections are based on the chosen beat value and will display correctly notated for 1 beat.

ACCENT PATTERNS
Selectable Accent Patterns vary upon the number of beats per measure and allow for the division of longer beat counts into groups of 2 and 3 ( every possible combination included ). Tempo can be adjusted from 10 - 280 BPM.

WIRELESS SYNCHRONIZATION
The Body Beat Sync has the ability to form synchronized, wireless groups of unlimited members. Any Body Beat Sync can either function as a "Master" unit within a group, or as a "Sync" unit or member.
Creating or joining a group is simple. Once a group is formed, each member or leader of the group will remember its group and its role within the group even when shut off and on.
Members of a group of Body Beat Sync Metronomes will stay perfectly synchronized within a 100 yard radius of the master.

UNIQUE GROUPS
Individually formed groups of metronomes will not interfere with each other as they operate on wireless network protocol. For example, this group of 9 Body Beat Sync metronomes can operate as 3 seperate networks of 3 members within the same room.

REMOTE CONTROL NETWORK
With just two Body Beat Sync Metronomes, a network can be created to wirelessly control a fixed-location unit that is patched into an amplification system. This eliminates the need to run long lengths of cable to the rear of a rehearsal space.

PRACTICE PATTERNS
There are 14 additional Presets beyond the initial 100 user definable memory locations in the Body Beat Sync that are named rather than numbered. These additional presets are two bar patterns in which only the tempo setting is editable/storeable.
2-3 and 3-2 presets of Son, Rumba and Bossa clave patterns are provided in 4/4 and 6/8. Common bell patterns such as Cascara and Agogo are also available in both clave directions.

INTERNALIZE THE BEAT
The Body Beat Sync offers a new approach on typical metronome use by producing a pulsing vibration allowing musicians to easily internalize the beat and develop a note value relationship both audibly and physically.
For convenience, the Body Beat Sync can clip onto the belt line and a small separate "vibe clip" transmits the beat, in the form of a pulse (including subdivisions and accents) directly to the user.
The Body Beat Sync can also be used like an ordinary metronome with audible and visual modes making it suitable for all musicians.

TEMPO MAPS
The Body Beat Sync is capable of storing 9 MIDI Tempo Maps in its local memory. A MIDI Tempo Map is a MIDI file that has been imported into the Body Beat Sync via the Body Beat Sync USB software. Once imported, only the meter changes, tempo changes and number of bars are stored in the Body Beat Sync memory. Up to 999 bars can be stored in each of nine memory locations.
MIDI Tempo Maps can also be created from scratch using a free online application on the Body Beat Sync website. Create up to 999 bars of meter and tempo information with the intuitive 'drag and drop' interface. View your creation as a chart or list of tempo and meter events.
Form Factor: Handheld / Wear-able
Tempo Range: 10 - 280 Quarter Notes per Minute
Meters: 1-12 / 2,4,8,16
Subdivisions: Over 23 Meter Specific
Tempo Maps: 9 Banks of 1000 Bars Each
Display Type: LCD
Product Dimensions LxWxH: 4.25" x 3" x 1"
Product Weight: 0.85lbs
USB Port: Yes
USB Type: Mini
Rechargeable: Yes
Battery Type: Lithium Ion
Power: AC ( USB ) 5V 500 mA
Built-In Microphone: No
Built-In Speaker: Yes
Volume Control: Yes
Headphone Jack: Yes
Outputs: 3.5mm Headphone, Auxillary, Vibe Clip
Tone Generator: C1 to C8
Concert A Range: Tone Generator 390Hz - 490 Hz
Warranty: 1 Year
User Presets: 100
By Steven R Gordon Carroll on Saturday, November 14, 2020
Reviewed on
Peterson Website
Plays 6-String Electric Guitar, 6-String Acoustic Guitar, 4 String Bass
An excellent metronome with extra features. Love the BodyBeat feature.
Was this review helpul to you?
Log in to reply
By Kenneth L. Strattan on Friday, May 1, 2020
Reviewed on
Peterson Website
I have only had the Body Beat Sync for one week. I really like the high quality of the unit. The unit comes with a USB cable, A removable clip for the back of the unit and the the cable for the Body Beat capsule. The unit can also be used with the built in speaker and it comes with a headphone jack. The battery is removable and is rechargeable via the included USB cable. This unit has all of the functions you would expect in a high quality metronome. It subdivides beats, it has can play in many different time signatures. And it has the most astonishing range of beats per minute I have ever seen. It plays from 10 beats a minutes up to 280 beats per minute. That is right 10 beats a minute Wow! It will also play beats that are not often found on a metronome it will play 120 BPM but, it will also play 120.2 BPM or 120.8 BPM or any other 10th of a beat. It has a tap feature on the tempo button that feels a little stiff but that might be because it is a new unit. The unit also comes with man ...
Read More
Was this review helpul to you?
Log in to reply
Anonymous on Tuesday, April 21, 2020
Reviewed on
Peterson Website
By Dan Johnson on Tuesday, June 25, 2019
Edited on Tuesday, June 25, 2019
Reviewed on
Peterson Website
Plays Octave Mandolin
Excellent product! It does everything as advertised!
Was this review helpul to you?
Log in to reply
By Thomas Engels on Sunday, February 17, 2019
Reviewed on
Peterson Website
I lost a screw from the Peterson Bodybeat belt clip.
They sent me another one.
Thank you.
Thomas
Was this review helpul to you?
Log in to reply
By Francis M Stevenson on Sunday, February 3, 2019
Reviewed on
Peterson Website
I am a drummer and have used this product for about 5 years now. In fact I wore out my first one and am on my second one. My band also loves it because we play all songs at the right tempo now and ended all the "that was too fast" and "that was too slow" nonsense that goes on nonstop when you are just using your own feel for timing, and because they trust this device they trust my speed is correct.I recently joined a well established band whose drummer has moved away and they are amazed by the increase in the number of people dancing to some of the songs that didn't get much dance response when they played them with the last drummer and we all know thats because the tempo is on target now. It is by far the most valuable drumming accessory I own, so much so that I even bought my third unit to have as a backup in case my gig unit malfunctions which we all know eventually will happen to electronics.
3 people found this review helpful.
Was this review helpul to you?
Log in to reply
By Gianluigi on Monday, December 24, 2018
Reviewed on
Peterson Website
Plays 6-String Electric Guitar, 4 String Bass, 6-String Acoustic Guitar, Ukulele, 5 String Bass, 5-String Banjo, Classical Cello
I like this metronome but I would like you to implement polyrhythm and tuplet subdivisions in next FW upgrade. Please keep in mind!
2 people found this review helpful.
Was this review helpul to you?
Log in to reply
( 2 )
By Gerald Crawford on Saturday, December 9, 2017
Reviewed on
Peterson Website
My second one over 10 years... Works great. Just a little hard loading my own notes.... More then likely me... Hi..
2 people found this review helpful.
Was this review helpul to you?
Log in to reply
By Amazon Customer on Monday, March 6, 2017
I love this metronome. It hasnt a good volume, when I play violin I have to put the back to the front to be able to listen it, but you can connect it to speakers. Outside this, is a really really wonderfull metronome.
3 people found this review helpful.
Was this review helpul to you?
Log in to reply
By Laura M. Hume on Monday, January 30, 2017
It's really fancy with all the cool features, but to turn it off you have to hold "Store" and "Start/Stop" button at the same time for 2 seconds...huh??
How 'bout installing a fancy "On/Off" button instead?
4 people found this review helpful.
Was this review helpul to you?
Log in to reply
( 2 )
Frequently Asked Questions
Is there a carrying case available?
We have carrying cases available that are very useful if you will be frequently traveling with your Peterson tuner. You may purchase your case directly from us at Peterson. Cases are available for the AutoStrobe™ line and the StroboClip HD. The StroboPLUS HD comes with packaging that has been designed to protect your tuner.
Was this helpful?
Help others find this information sooner.
How do I sync my BodyBeat Sync to Logic Pro ?
Logic Pro X Preferences > MIDI > MIDI Sync Project Settings > Destination (Bodybeat Sync) > select CLOCK and MTC. This must be done for each new project, as it is not a global setting.
Was this helpful?
Help others find this information sooner.
Which Peterson products work with Peterson Connect?
Currently, the StroboPLUS HD, StroboPLUS HDC, StroboClip HD, StroboStomp HD and the Stomp Classic Pedal Tuner / Active DI are compatible with Peterson Connect.
Was this helpful?
Help others find this information sooner.
How do I send my product in for repair?
If you need to send your tuner in for repair, please open a support ticket.
All products returned for service must have a support ticket number on the outside of the box as well as on the accompanying paperwork on the inside of the box. If you have not registered your tuner, you must do so before returning it. Include a description of your problem. Please be specific about the type of malfunction as well as the conditions under which it occurs.
There is a minimum charge of $70.00 US plus a shipping charge for all Peterson tuners received (unless subject to Peterson warranty). Payment options include C.O.D., VISA, MasterCard, and Discover Card.
NOTE: For international (non-USA) repairs and for all Conn tuner repairs, a different procedure may apply. If you would like an advance estimate for service, you must include a request in writing with the tuner you ship.
Contact and Shipping Details:
For service of Peterson tuners:
Peterson Electro-Musical Products, Inc. 11601 South Mayfield Ave. Alsip, IL 60803 USA
TEL: 708-388-3311 (ext. 143) FAX: 708-388-3341
Email: techwest@petersonemp.com
Was this helpful?
Help others find this information sooner.
Where should I put the vibe clip?
The clip is best placed so that it is close to a bone and making good contact with your body. This way, the pulse will travel through your entire body.
Common places to clip the vibe are:
On your belt line at the small of the back next to your spine, on the back of your collar, on your side next to your hip bone, or on your shoe.
Remember, always place the barrel of the vibe toward your body for the most effective beat transfer.
Was this helpful?
Help others find this information sooner.
There are no entries matching your search.
Not finding an answer? Open a support ticket for personalized support of your Peterson product.