100% Satisfaction Guarantee.
We guarantee our products and strive for consistent 100% customer satisfaction.
New items purchased from Peterson Tuners direct can be returned within 30 days of receipt of shipment.
Live product support is available Mon-Fri from 8am-5pm CST. Call us at 708-388-3311.
Strobe Tuners / 100-500 / Popularity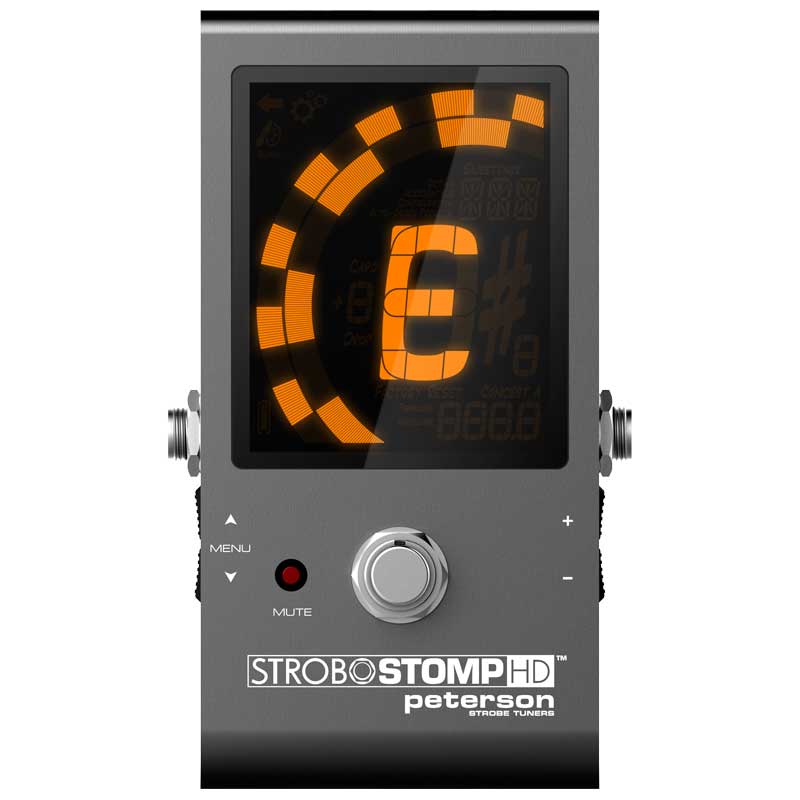 StroboStomp HD
$149.00
Featuring the largest tuning display Peterson Tuners has ever incorporated into one of their pedal tuners, the StroboStomp HD boasts a high-definition, LCD screen that incorporates a variable color LED backlight. The user-selectable colors can be used to personalize the tuner or to increase display viewing quality in different levels of ambient lighting depending on the usage environment. The vibrant screen colors can also be assigned to stock or user presets to significantly reduce menu navigation time and increase on-stage tuning confidence at the gig. For tone purists, the StroboStomp HD provides a 100% silent, true-bypass operation mode to keep precious tone safe, as well as, eliminate the often annoying "pop" experienced when engaging such a feature in other products. It uses a unique series of timed relays incorporated within its circuitry to shunt the signal, draining the cause of the popping sound prior to breaking the connection, and effectively shutting the tuner down for direct play through without affecting tone quality. The StroboStomp HD also includes a long-time, user-requested buffered output operation mode that can be user engaged. The buffered mode can be used in or out of monitor mode. It is designed to boost instrument drive to overcome potential tone loss in signal chains that incorporate multiple low-impedance guitar pedals or those that utilize long cable runs. The buffered output modes preserve sonic quality all through the instrument range and keep prized core tone intact. The StroboStomp HD features over 100 exclusive Sweetened Tunings™, as well as, numbered guided tuning presets for a large variety of instruments and playing styles. Sweetened Tunings are exclusive to Peterson tuning products and are designed to help correct inherent tuning issues exhibited by many instruments. The new "Guided Tunings" mode allows the StroboStomp HD to display numeric string values instead of traditional note names making for sure-fire intuitive and rapid re-tuning to any number of open and alternative tunings. The Guided Tuning mode was instituted for beginners who want to experiment with popular alternate tunings, as well as, experienced players who employ multiple tunings in rapid succession. Numerically expressed scales are also included.
MORE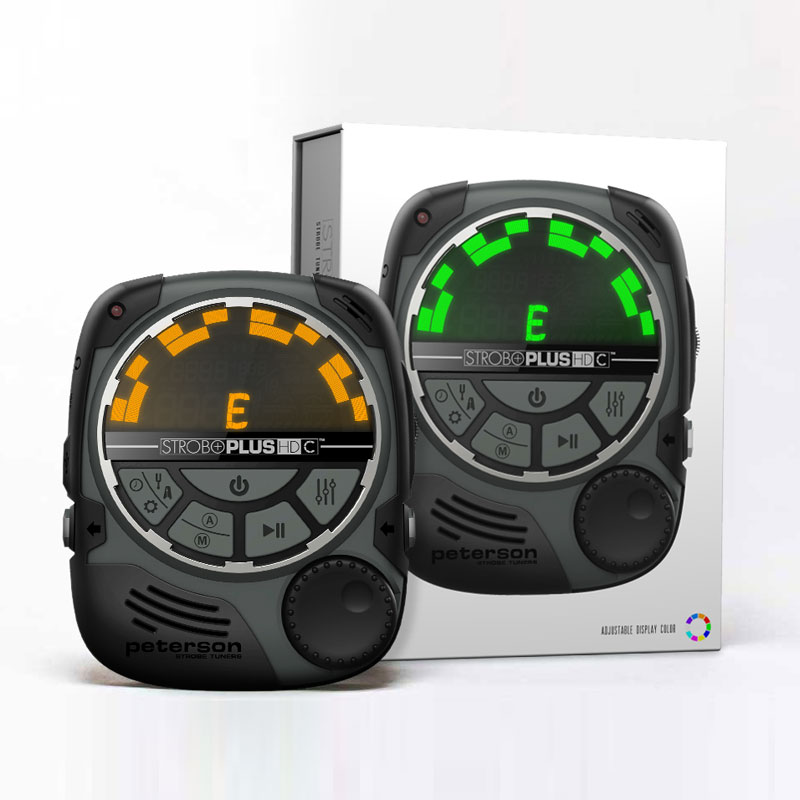 StroboPLUS HDC
$179.99
The Peterson StroboPlus HD (SP-1) is THE premier desktop digital tuner on the market! Equally as comfortable on a tech's workbench as it is in a player's guitar case, this tuner, with all of its features, is no exception to Peterson's reputation for being THE most accurate in the industry — don't let its demure palm size fool you! Players of both acoustic and electric instruments can rest assured— a built-in electret condenser microphone and ¼" input jack provide excellent connectivity. Gone are the days of having to carry extra batteries and tripping over power cables during a performance! This tuner is rechargeable via computer bus or outlet power, and its large, circular screen is easily viewed in both the darkest and brightest environmental conditions. Features such as Auto Off, easy menu navigation, tripod mounting capability, over 90 of our Sweetened Tunings, tone generation ability via built in speaker, and a headphone output jack round out the package. Finally, future-proof updating and parameter editing is made possible by the tuner's unobtrusive side-mounted USB jack. And for those feeling exceptionally adventurous, this tuner can be upgraded to also feature our super flexible Body Beat metronome option, along with both audible AND tactile mode operation. Hear the beat or feel it…the power is in your hands. This tuner is fit for the most discerning of players and technicians for sure!
MORE