100% Satisfaction Guarantee.
We guarantee our products and strive for consistent 100% customer satisfaction.
New items purchased from Peterson Tuners direct can be returned within 30 days of receipt of shipment.
Live product support is available Mon-Fri from 8am-5pm CST. Call us at 708-388-3311.
Strobe Tuners / 100-500 / Low-To-High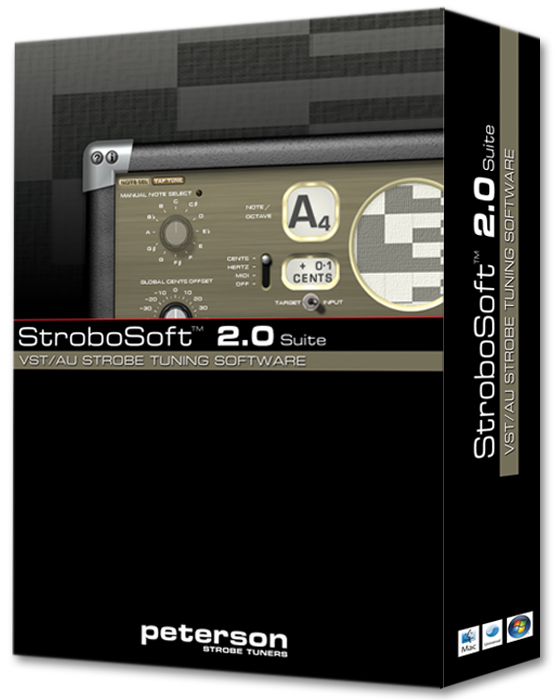 StroboSoft Suite
$129.99
Prefer a Boxed Version? This product is eligible for free lifetime upgrades. StroboSoft Suite is the boxed retail version of our popular tuning software. StroboSoft Suite ships with the adapter required for converting standard guitar cables to the "mini-jack" input of most standard computer sound card inputs. A quick start guide is included for fast and easy installation and configuration. (the owner's manual is located on the disc as a PDF.) This item is NOT eligible for download. A serial number or download link will not be provided upon purchase. Appropriate shipping costs will be added to your invoice total during checkout. Warranty: One purchase warrants two installation permissions every 120 days for a maximum of six unlocking codes per year. If more than two installations will be required immediately, please purchase a second copy of StroboSoft. Multi-platform version: Mac & Windows Due to digital copyright laws, software is not returnable. Please read all specifications and requirements before purchase on the product page. Pre-purchase inquiries may be directed to info@strobosoft.com or by calling us directly at 708-388-3311.
MORE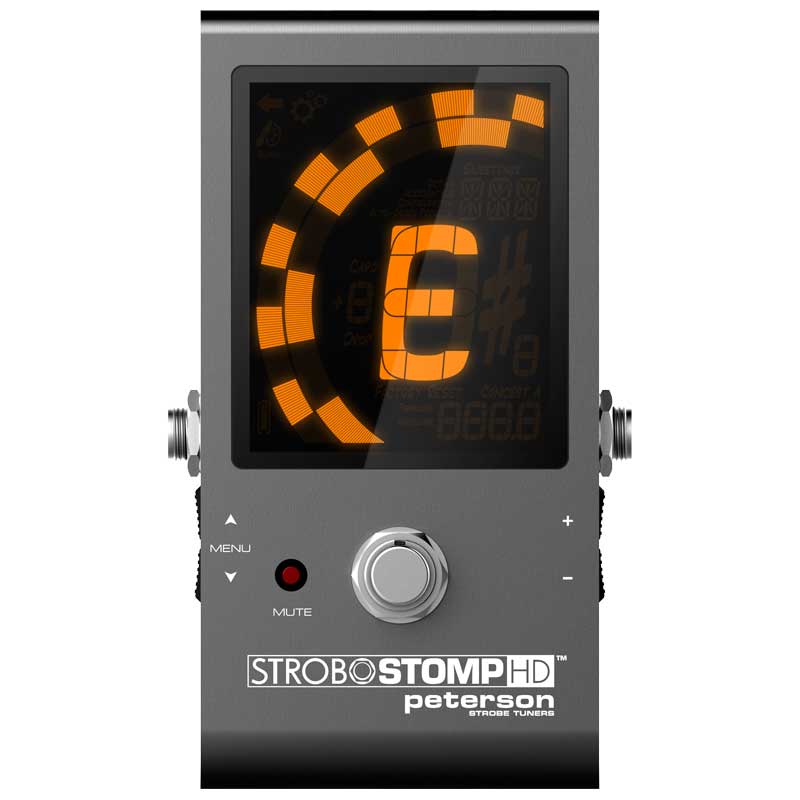 StroboStomp HD
$139.00
Featuring the largest tuning display Peterson Tuners has ever incorporated into one of their pedal tuners, the StroboStomp HD boasts a high-definition, LCD screen that incorporates a variable color LED backlight. The user-selectable colors can be used to personalize the tuner or to increase display viewing quality in different levels of ambient lighting depending on the usage environment. The vibrant screen colors can also be assigned to stock or user presets to significantly reduce menu navigation time and increase on-stage tuning confidence at the gig. For tone purists, the StroboStomp HD provides a 100% silent, true-bypass operation mode to keep precious tone safe, as well as, eliminate the often annoying "pop" experienced when engaging such a feature in other products. It uses a unique series of timed relays incorporated within its circuitry to shunt the signal, draining the cause of the popping sound prior to breaking the connection, and effectively shutting the tuner down for direct play through without affecting tone quality. The StroboStomp HD also includes a long-time, user-requested buffered output operation mode that can be user engaged. The buffered mode can be used in or out of monitor mode. It is designed to boost instrument drive to overcome potential tone loss in signal chains that incorporate multiple low-impedance guitar pedals or those that utilize long cable runs. The buffered output modes preserve sonic quality all through the instrument range and keep prized core tone intact. The StroboStomp HD features over 100 exclusive Sweetened Tunings™, as well as, numbered guided tuning presets for a large variety of instruments and playing styles. Sweetened Tunings are exclusive to Peterson tuning products and are designed to help correct inherent tuning issues exhibited by many instruments. The new "Guided Tunings" mode allows the StroboStomp HD to display numeric string values instead of traditional note names making for sure-fire intuitive and rapid re-tuning to any number of open and alternative tunings. The Guided Tuning mode was instituted for beginners who want to experiment with popular alternate tunings, as well as, experienced players who employ multiple tunings in rapid succession. Numerically expressed scales are also included.
MORE