Yves Carbonne
Overview
Products
Instruments
Videos
Related Profiles
Bassist/composer/arranger Yves Carbonne was born in Auch, France, and since his childhood has lived in the Bordeaux region. Though his parents were not musicians, he took piano lessons when he was 7, and soon the young Carbonne discovered a special affinity with low sounds. While his older brother practiced guitar, he urged the younger Carbonne to play with him, and eventually at age 13 Yves started playing the electric bass. Two years later began to study playing acoustic upright bass. While Yves started out largely self-taught on these instruments, he later took some lessons with Alain Caron and Dominique Di Piazza, and by age 17 Carbonne was focusing on a career as a professional musician, who soon found himself performing in jazz and rock ensembles around Bordeaux with frequent visits to Paris. Carbonne's early influences grew out of his fascination with international jazz greats, particularly Miles Davis, John McLaughlin, John Coltrane, and Jaco Pastorius. Like Pastorius, Carbonne came to focus on pioneering new tonalities and sonic qualities through his instrument.
In his pursuit of the instrument's sonic development, Carbonne later became the first musician to perform on 10 and 12 stringed fretless "sub-bass" instruments. At the 2007 winter NAMM convention, visited by leading bassists from all the world's corners, notably Carbonne was the only of many professional bassists actively performing and recording with these amazing "orchestral bass monsters." Yves has formed a lasting association with one of the world's most acclaimed and innovative luthiers of bass instruments, the founder of the Bass Art Company, Jerzy Drozd. Drozd, based in Barcelona Spain is well known among bass enthusiasts for the models Carbonne plays, the Legend X and Legend XII; and the 12 string instrument features new low B string tuned at an earth-moving 15.4 Hertz! One might infer from the sounds heard on Seven Waves, the instrument when in played in France sounds as if it has the potential to register on Richter scales in the Americas.
What tuner can get down to 15.4 hertz? You guessed it...
Yves Carbonne ~ 2 (first track from the album « Beyond The Waves »)
Here are a few more Peterson users who work with similar instruments and products.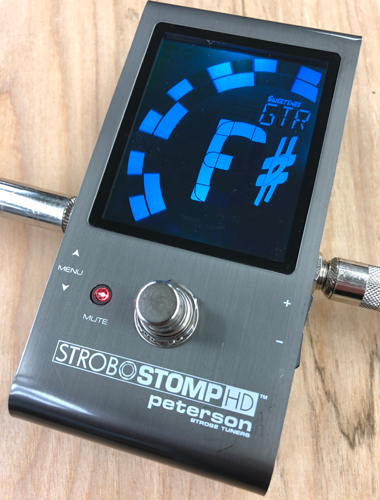 Enjoy 10% off
Let's stay connected
Simply sign up for our email list and we'll send you a unique coupon code, plus other exclusive savings!*
Thanks for joining ouir mailing list!
Keep an eye on your inbox. Your exclusive offer will be arriving soon.
* Must enter email address to receive unique promo code. Upon confirmation of eligibility, subscribers will receive a one-time use promo code for 10% off their purchase at PetersonTuners.com, including mechanical tuners, Virtual Series™ strobe tuners, StroboSoft™ desktop software, BodyBeat™ series metronomes, and accessories. Discounts do not apply toward the purchase of iStroboSoft for Android or iOS or Node products. Offer subject to change at any time. Cannot be combined with another promotional offer. To take advantage of this one-time use offer enter your email address and the offer code will be delivered to that address. Please add petersontuners@petersontuners.com to your safe list to prevent your offer from going to spam. Your email address information is kept private.
Privacy Policy.
Need Help?
Select a maximum of 4 products to compare.