Log In to PetersonTuners.com
Send me a password reset link.
Your Cart - 0 Items
Free Standard US Shipping on orders $35.00 and over!
Peterson Connect
Your Peterson products may have additional functionality via Peterson Connect.
Currently, Peterson Connect is only available within the Google Chrome, Opera, Vivaldi, Brave and Microsoft Edge browsers.
Install Peterson Connect
In order to use the advanced features of your Peterson Connect product, you will need to install an additional feature for Google Chrome.
By installing the Peterson Connect app for Google Chrome, you will allow the Peterson website to read and write data to Peterson devices through your computer's USB port.
This app will work inline with the Peterson website and does NOT launch independently.
USB Device Detected
Chrome has detected your Peterson USB product and is connecting to the Peterson servers.
Your Support Tickets

You do not have any open support tickets.
StroboSoft 2.0 (DEMO VERSION)
StroboSoft 2.0 (DEMO VERSION)
Item #: 403853
$49.99 - $99.99
Evaluate StroboSoft 2.0 on your system without time limits or feature restricitons.

REFUND POLICY: You can demo StroboSoft 2.0 for a 15-day trial. A paid purchase must be made to receive the installation files and a serial. This is a fully-working demo without limited functionality. Should you not be happy with your purchase at any time during the trial period, a refund will be provided up to 15 days from registration (not from the purchase date). A REFUND MUST BE REQUESTED NO LATER THAN 3 DAYS AFTER THE TRIAL HAS EXPIRED. The demo will display how many days are left in the trial period. After the trial is completed, it will not launch and request a new unlocking code.


If you choose to keep the software, please register for a new unlocking code after the demo expires. Please note: If the software is authorized past the 15-day trial period, you will not be eligible for a refund. Refunds can be requested by emailing info@strobosoft.com with a copy of your online order.


Warranty: One purchase warrants two installation permissions every 120 days for a maximum of six unlocking codes per year. If more than two installations will be required immediately, please purchase a second copy of StroboSoft.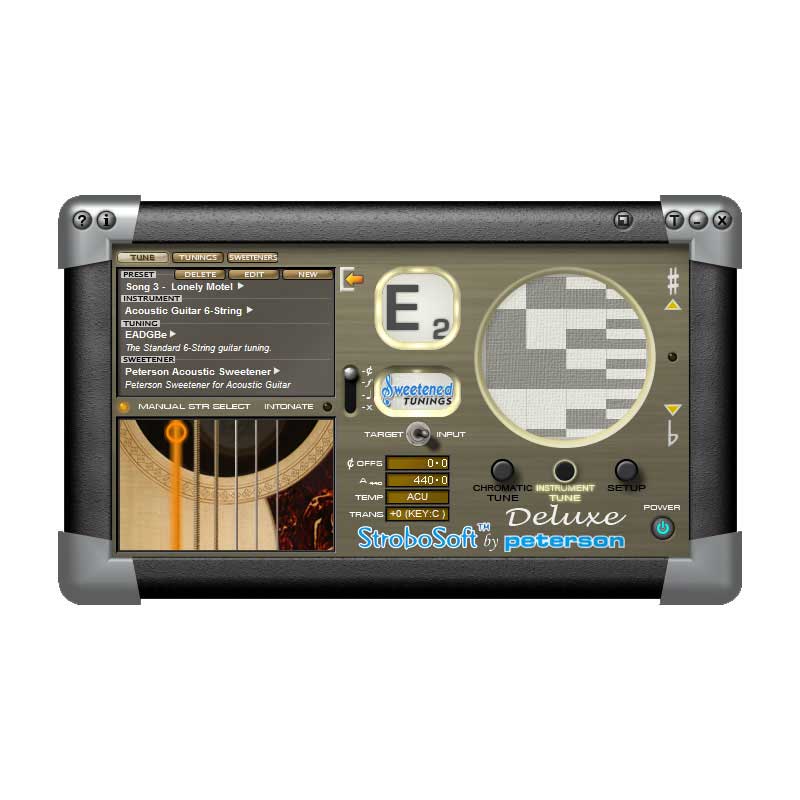 StroboSoft 2.0
$49.99 - $99.99
The Peterson StroboSoft2 Tuning Suite gives you the power to route your audio through your DAW on an insert point or to strap it across your buss and tune with unrivaled accuracy. Getting your instrument into your computer is as simple as plugging in up to two sound cards at once (stereo input), and selecting a sampling rate up to 96kHz. If the output level of your instrument still isn't high enough, we have you covered. You can boost signals up to 24dB and achieve an ideal tuning lock. Sharp and flat tuning indicators make "at a glance" tuning a breeze. Gone are the days of needing to use an external compressor to tap-tune backboards, braces, and tone bars. Our "Average" function does away with any measured outliers. The "Standard" downloadable version of this software offers basic chromatic tuning, Cent/Hertz/MIDI note number output, noise filtering, and selectable concert A reference. Our "Deluxe" version offers 38 Sweetened Tunings, themed skins to personalize the tuner to fit the best look for your style, the ability to import/export Sweeteners and temperament to share with friends, and oscilloscope/spectrum analyzer utilities!
MORE