Log In to PetersonTuners.com
Send me a password reset link.
Your Cart - 0 Items
Free Standard US Shipping!
Peterson Connect
Your Peterson products may have additional functionality via Peterson Connect. Currently, Peterson Connect is only available within the Google Chrome browser.
Install Peterson Connect
In order to use the advance features of your Peterson Connect product, you will need to install an additional feature for Google Chrome.
By installing the Peterson Connect app for Google Chrome, you will allow the Peterson website to read and write data to Peterson devices through your computer's USB port.
This app will work inline with the Peterson website and does NOT launch independently.
Peterson Connect Installed
No Device Detected
Plug in your Peterson device with a ( micro or mini ) USB cable.
Be sure that your USB cable is capable of data communication. Some USB cables are only made for charging.
It may then take a few minutes for your computer to install drivers ( first time only ). Your operating system needs to detect and install the USB device before this website can begin communicating with it.
Usually, your OS will play a sound upon connecting.
Peterson Connect Installed
USB Device Detected
Chrome has detected your Peterson USB product and is connecting to the Peterson servers.
Your Support Tickets

You do not have any open support tickets.
External Microphone
Item #: 170172
$29.99
Unidirectional Dynamic Handheld Microphone - for better isolation and pickup of acoustic sources (for all Virtual and AutoStrobe™ tuner models). Comes with an on/off switch so you can leave it connected when not in use.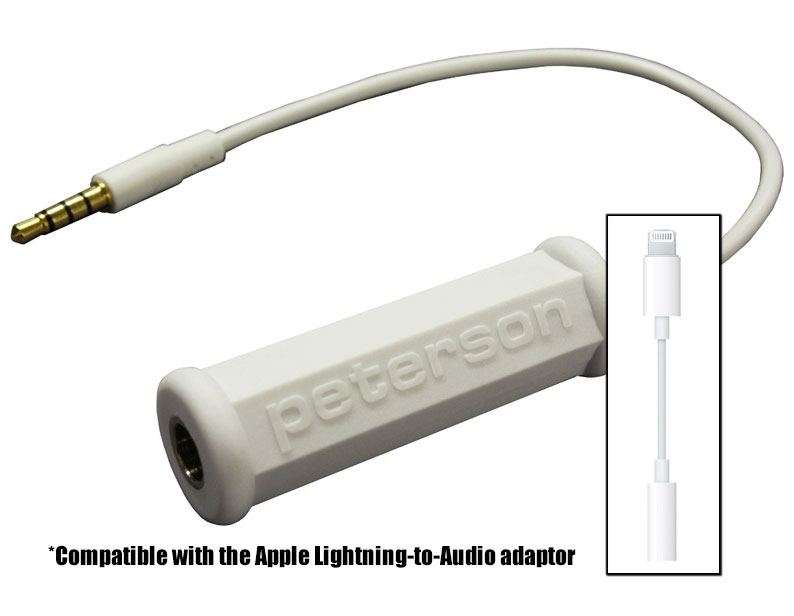 Adaptor Cable for Mobile Devices
$13.99
This adaptor cable has been specifically designed to function with your mobile Apple or Android phone/tablet device. Connect an instrument, microphone, or tuning pick-up with a 1/4" plug directly into your device using the headphone jack. Directly plug in your guitar or bass for tuning or use an external microphone to tune brass or wind instruments. *Compatible with the lightning-to-audio adaptor cable from Apple. Can be used with any application requiring an audio input. Will not interfere with charger connector. iPod, iPhone and iPad are registered trademarks of Apple Inc., registered in the U.S. and other countries. 90-day exchange warranty.
MORE
Reviews | External Microphone
By Franco UGOLINI on Sunday, March 4, 2018
Reviewed on
Peterson Website