Log In to PetersonTuners.com
Send me a password reset link.
Your Cart - 0 Items
Free Standard US Shipping!
Peterson Connect
Your Peterson products may have additional functionality via Peterson Connect.
Currently, Peterson Connect is only available within the Google Chrome, Opera, Vivaldi, Brave and Microsoft Edge browsers.
Install Peterson Connect
In order to use the advanced features of your Peterson Connect product, you will need to install an additional feature for Google Chrome.
By installing the Peterson Connect app for Google Chrome, you will allow the Peterson website to read and write data to Peterson devices through your computer's USB port.
This app will work inline with the Peterson website and does NOT launch independently.
Peterson Connect Installed
No Device Detected
Plug in your Peterson device with a ( micro or mini ) USB cable.
Be sure that your USB cable is capable of data communication. Some USB cables are only made for charging.
For StroboStomp HD, be sure to disconnect instrument cable from the input.
It may then take a few minutes for your computer to install drivers ( first time only ). Your operating system needs to detect and install the USB device before this website can begin communicating with it.
Usually, your OS will play a sound upon connecting.
USB Device Detected
Chrome has detected your Peterson USB product and is connecting to the Peterson servers.
Your Support Tickets

You do not have any open support tickets.
Body Beat Sync Replacement Battery BL-4B 3.7V
Body Beat Sync Replacement Battery BL-4B 3.7V
Item #: 173017
$19.99
OEM replacement battery for the Body Beat Sync metronome. Rechargeable 3.7V Lithium-Ion. (Not to be used with StroboPlus HD.)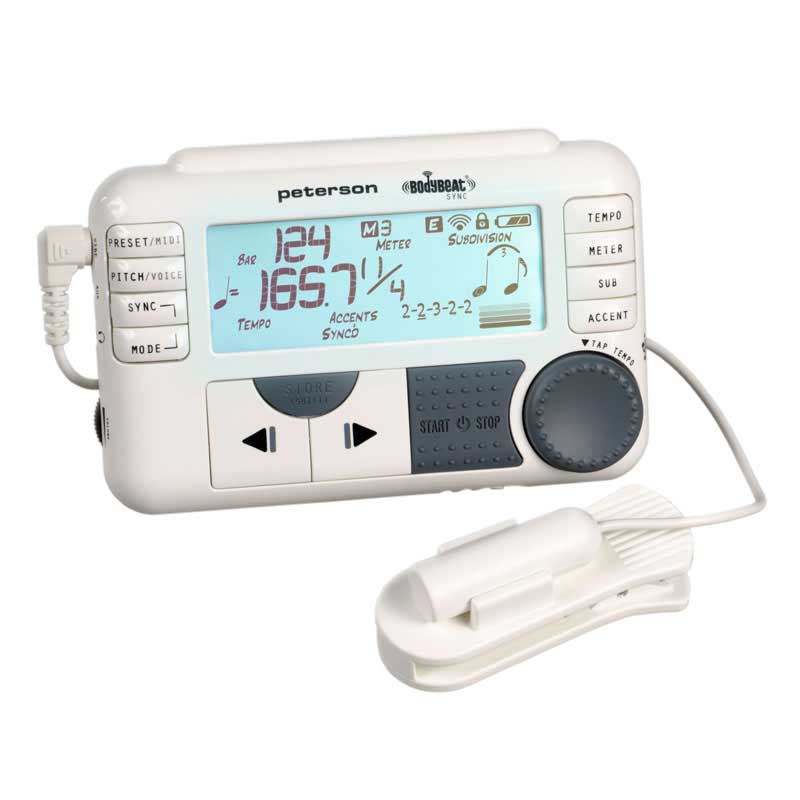 Body Beat Sync
$155.00
The Body Beat Sync® represents the ultimate in musical tempo reference devices. As a fully featured metronome, it is capable of transmitting the beat by visual, aural and tactile means. Wireless functionality allows two or more Body Beat Syncs to work in synchronicity with one another, allowing the networking of multiple units on stage, in the recording studio, band room or anywhere the precise synchronization of a performance and its performers is required. The Body Beat Sync can store up to 100 user presets consisting of tempo, meter, subdivision and accent pattern. All preset information is transmitted to each synchronized unit as well as the current bar count of the active preset. If the 100 user presets do not provide enough versatility, the "tempo map" from an entire musical score can be stored in the Body Beat Sync via the mini USB cable. A standard MIDI file can be used or a custom "tempo map" can be designed via the free application on the Body Beat Sync website. Additionally, the Body Beat Sync can be driven by a DAW using MIDI Clock via the mini USB cable. The mini USB connection is not only used to charge the Body Beat Sync, but provides a means for always keeping the unit's firmware current. You will never need another metronome!
MORE