Log In to PetersonTuners.com
Send me a password reset link.
Your Cart - 0 Items
Free Standard US Shipping!
Peterson Connect
Your Peterson products may have additional functionality via Peterson Connect. Currently, Peterson Connect is only available within the Google Chrome browser.
Install Peterson Connect
In order to use the advance features of your Peterson Connect product, you will need to install an additional feature for Google Chrome.
Peterson Connect Installed
No Device Detected
Plug in your Peterson device with the provided USB cable. It may take a few minutes for your system to install drivers before the Peterson website can detect the connection.
Peterson Connect Installed
USB Device Detected
Chrome has detected your Peterson USB product and is connecting to the Peterson servers.
Your Support Tickets

You do not have any open support tickets.
Adaptor Cable for Mobile Devices
Adaptor Cable for Mobile Devices
Item #: 403871
$13.99
This adaptor cable has been specifically designed to function with your mobile Apple or Android phone/tablet device. Connect an instrument, microphone, or tuning pick-up with a 1/4" plug directly into your device using the headphone jack. The perfect accessory when used with iStroboSoft™ by Peterson Tuners (iOS only). Directly plug in your guitar or bass for tuning or use an external microphone (required for iPod touch) to tune brass or wind instruments. Can be used with any application requiring an audio input. Will not interfere with charger connector. Devices Supported: iPad (all versions), iPhone (all versions), iPod touch 2nd/3rd/4th Gen., iPod touch (1st Gen will require a compatible mic-in device via docking connector), Android devices that support 'audio-in' via the 1/8' jack. iPod, iPhone and iPad are registered trademarks of Apple Inc., registered in the U.S. and other countries.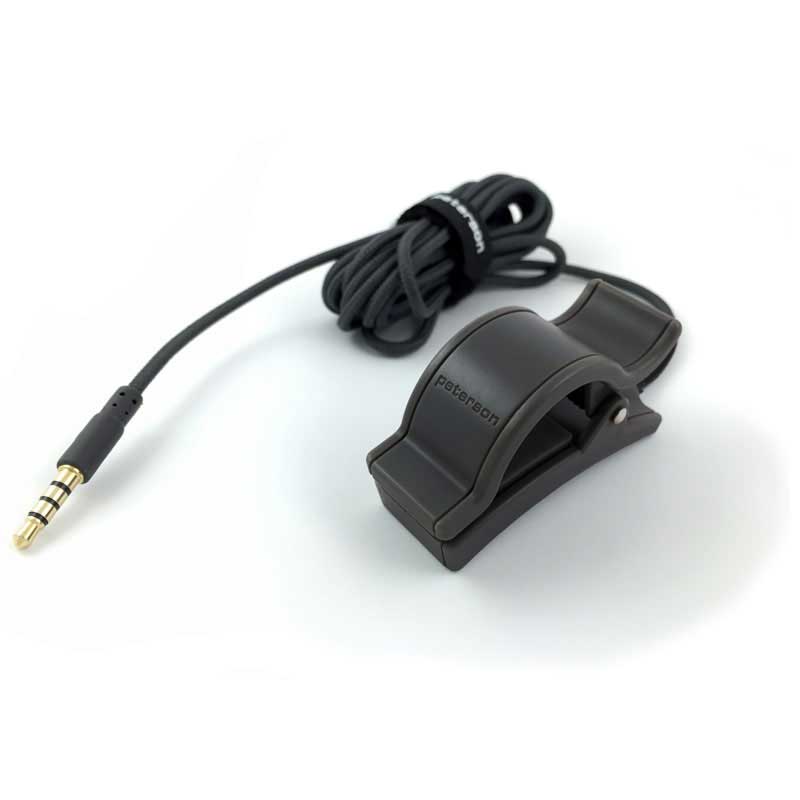 Pitch Grabber Mobile Tuning Clip
$14.99
The PitchGrabber Mobile tuning pickup easily and safely clamps on to virtually any musical instrument and captures the pitch using its piezo pickup sending it directly to your mobile tuning application. The PitchGrabber Mobile uses the headphone/mic input of your mobile device to completely isolate the sound of your instrument and provide a direct input path to your tuning application. Perfect for tuning in noisy environments.
MORE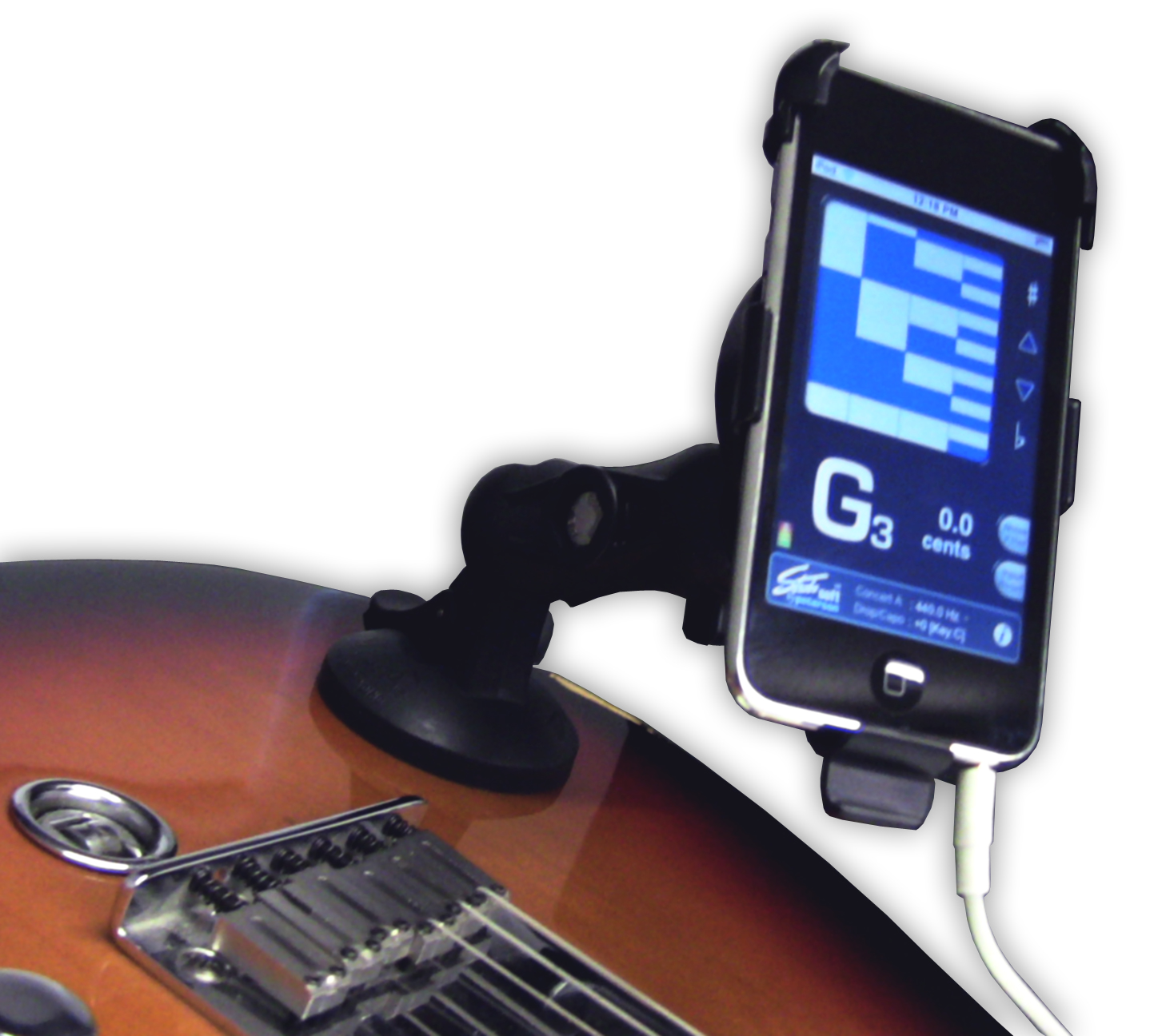 Dunlop D65 iDevice Holder
$34.95
This holder for iPods and iPhones attaches to your guitar so you can display lyrics, chords, and more on your iPod or iPhone's screen. Dunlop Manufacturing provides a flexible way for guitarists and other musicians to hold their iPhone™ and iPod® touch. The unique feature of the D65 is its ability to attach to the front of your guitar and display lyrics, chords, or music in the ideal position.
MORE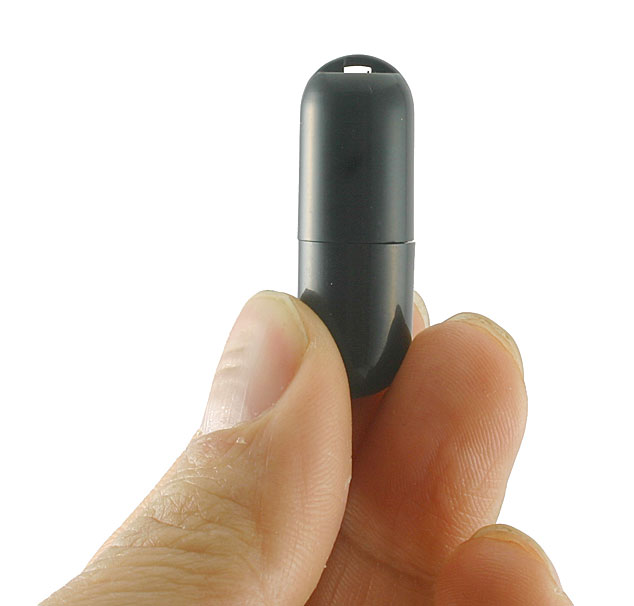 Mini Capsule Mic for iPhone and iPod
$11.99
Small, lightweight, and portable with a protective cover. Enables the iPod® touch to be used with applications requiring a microphone. Can be attached to a key ring or lanyard for easy access. The sensitivity is perfect for use with the iStroboSoft™ tuning application by Peterson Tuners. Easily tune your acoustic guitar, woodwind, or brass instruments. Can be used with any iTunes application that uses a microphone as an input. Also works with iPod® Classic, iPhone™, iPad™ and iPod® Nano to be used as a recording device. NOT FOR USE WITH 1ST GEN. IPOD TOUCH. This device will require a dock connector mic.
MORE