Log In to PetersonTuners.com
Send me a password reset link.
Your Cart - 0 Items
Free Standard US Shipping on orders $35.00 and over!
Peterson Connect
Your Peterson products may have additional functionality via Peterson Connect.
Currently, Peterson Connect is only available within the Google Chrome, Opera, Vivaldi, Brave and Microsoft Edge browsers.
Install Peterson Connect
In order to use the advanced features of your Peterson Connect product, you will need to install an additional feature for Google Chrome.
By installing the Peterson Connect app for Google Chrome, you will allow the Peterson website to read and write data to Peterson devices through your computer's USB port.
This app will work inline with the Peterson website and does NOT launch independently.
Peterson Connect Installed
No Device Detected
Plug in your Peterson device with a ( micro or mini ) USB cable.
Be sure that your USB cable is capable of data communication. Some USB cables are only made for charging.
For StroboStomp HD, be sure to disconnect instrument cable from the input.
It may then take a few minutes for your computer to install drivers ( first time only ). Your operating system needs to detect and install the USB device before this website can begin communicating with it.
Usually, your OS will play a sound upon connecting.
USB Device Detected
Chrome has detected your Peterson USB product and is connecting to the Peterson servers.
Your Support Tickets

You do not have any open support tickets.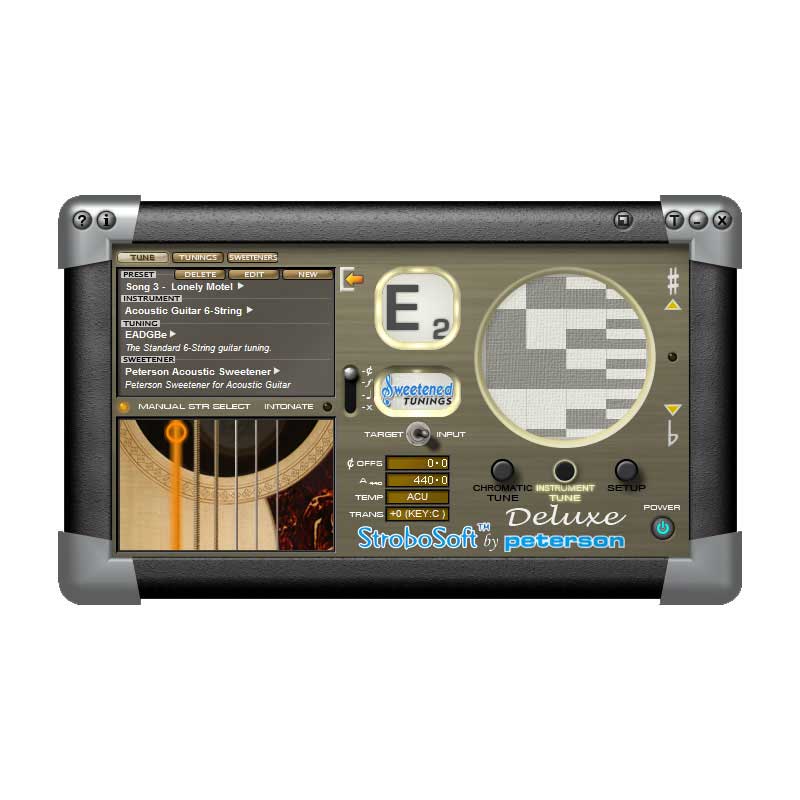 StroboSoft 2.0
The windows version has the cool features ( e,g, harmonics, sweeteners) hidden under a non obvious setup button
By Istvan Gonczi on Monday, October 31, 2022
Edited on Monday, October 31, 2022
Reviewed on
Peterson Website
Plays 6-String Acoustic Guitar, 4 String Bass, 6-String Electric Guitar, 5 String Bass
Before you spend your money on the windows desktop version of Strobosoft, be aware that this version does not have anything extra compared to the ipad version, so if you already own that, no point in buying this.
For the money, I expected the product to be on par with the iPad version, which I already own. A bit of a disappointment.
5 people found this review helpful.
Was this review helpul to you?
Log in to reply
( 1 )
Other StroboSoft 2.0 Reviews