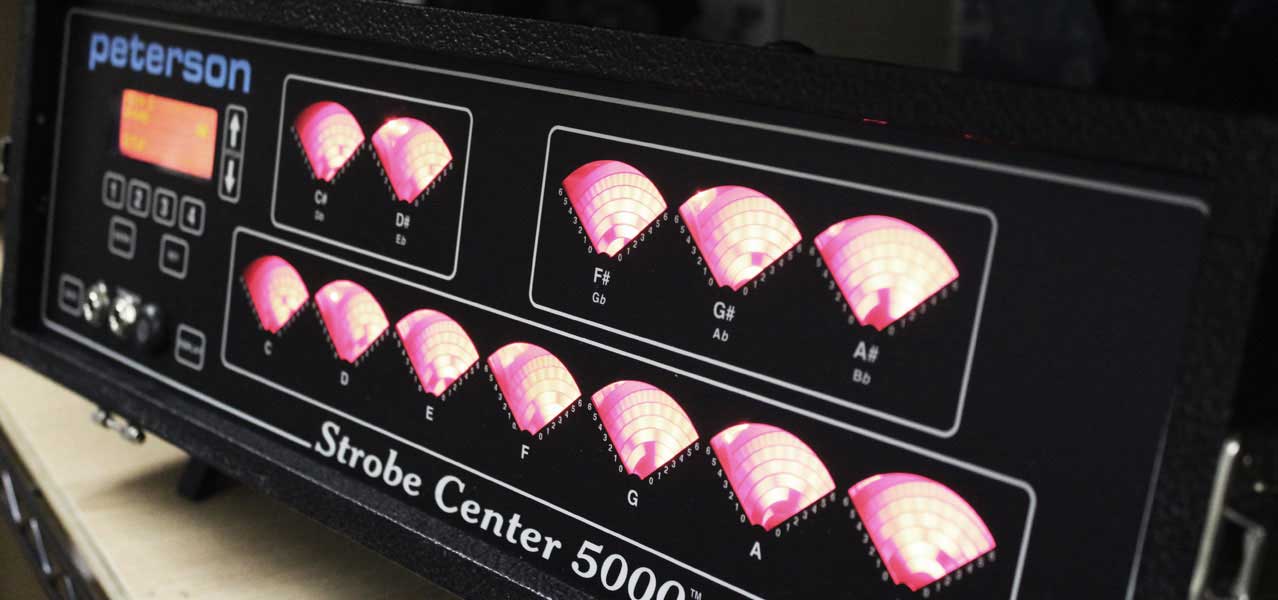 SC5000-II
12 wheel multi-octave Tuner
$4,480.00
Free US Shipping
The Peterson Strobe Center 5000-II is hands-down the most advanced 12-wheel tuning device ever made!
SC5000-II
Overview
Features
Specifications
Sweeteners
Reviews
Support
The Peterson Strobe Center 5000-II utilizes a user-intuitive layout to accurately measure each scale note with unsurpassed precision. This easy, simple, and fun-to-use tuner derives its 12-window strobe-tuning technology from a high-precision digital microprocessor and motor control mechanism to provide a versatile piece of pitch measuring equipment with unsurpassed accuracy and features. Simply recall and use specialized applications, such as built-in stretch tables, to calibrate even the most inharmonic instruments. Or, program your own custom temperaments and tables into our user definable memory bank.
Use this device to practice and hone your sense of intonation within 1/10th of a Cent, easily transcribe keys, or calibrate to any pitch standard–all with both lightning-fast response time and noise free operation…no warm up time required! Plug in or use our handy built-in condenser microphone to get into the unit and you're ready to go! The 5000-II is guaranteed to be a pleasure for all educators, students, maintenance professionals, manufacturers, and others to use for their precision tuning needs.

USER FRIENDLY PROGRAMMING
"Stretch" refers to specific adjustments in the frequencies (pitches) of notes to enhance the overall quality of tuning within an instrument.
The SC5000-II includes several built-in stretch tables which may be used for tuning pianos. Users can create and program their own preferred custom temperaments and custom stretch tables into the user preset section.

TEACHING INTONATION
Musicians can practice with the Peterson Strobe Center 5000-II while viewing an entire chord in which they play a part.
Keeping an eye on harmonic content is a tremendous aid to improved tone quality.
Easy Transposition To The Key Of C -Strobe Patterns Appear At The Correct Note For All Instruments In B B, F, E B And C.
Selectable +2/-1 Pattern Shift For Upper And Lower Register Notes - Shifts The Strobe Patterns Into The More Visible Middle Ranges. Bass Notes Are Lifted 2 Octave Bands, And Treble Notes Are Dropped 1 Octave Band In The Strobe Displays.
Digital Fine-Tuning Pitch Control For Precise Measurement Of Intonation Accuracy.
Tuning Accuracy Better Than 1/1000 Of A Semitone - Accurate To 1/10 Of A Cent.
Calibration To Any Pitch Standard - A=440 Default.
Independent Microprocessor -Controlled Strobe Discs Allow Unprecedented Versatility.
Quiet Operation - No Noisy Gear Drives.
Rugged Carrying Case With Cover.
Dual Voltage 110 V Or 220 V.

BUILT FOR SPEED
Manufacturers and musical instrument maintenance professionals will be pleased by the extraordinary versatility of the Peterson Strobe Center 5000-II.

EASY NAVIGATION
Simple LCD menu displays with four function key switches easily address the multiple functions of the SC5000-II.

COMPLETE TONAL VIEWING
Intonation of the higher partial tones can only be seen correctly when using the 12-window strobe-tuning method.

INDEPENDENT CONTROL
Precision microprocessor digital and motor control technology provide instantaneous imaging of note pitches as well as simultaneous viewing of harmonies and overtone frequencies in sounds.
Available Tuning Presets ( 17 )
Default
EQU
Standard chromatic tuning/Equal temperament suitable for regular or alternate tuning, 100 cent intervals - no Sweetening.
Historic Temperaments
PYT
Pythagorean Intonation with A base
KRN
Kirnberger III Temperament
YNG
Young Temperament with A base
Stretch Tunings
CNGD
Concert Grand Piano Stretch Tuning.
STGD
Studio Grand Piano Stretch Tuning
AVRG
Average Piano Stretch Tuning
SMGD
Small Grand Piano Stretch Tuning
UPRT
Upright Piano Stretch Tuning
VERT
Average Vertical Piano Stretch Tuning
CNSL
Console Piano Stretch Tuning
SPNT
Spinet Stretch Tuning
Compare to Sweetened Tunings offered in other products.
Stretch Tuning Tables: 8 Piano Stretch Tables
Note Range: C1 to B8
Power Supply: Built-In (IEC)
Note Selection: All Notes Visible
Peterson Connect Compatible: No
Accuracy: 0.1 cents
Form Factor: Desktop
Display Type: 12 Analog Strobe Discs
Display Resolution: Infinite (Analog)
Construction: Wood Casing
Product Dimensions LxWxH: 21.25" x 14.25" x 7.5"
Product Weight: 25lbs
USB Port: No
Power: AC 100V to 240V
Built-In Microphone: Yes
Built-In Speaker: No
Metronome: No
Inputs: 1/4" Jack
Mute-able Output: Front Panel Control
Outputs: 1/4" Thru
Concert A Range: 350Hz to 550Hz
Global Cent Offset Range: +/- 50 Cents
Transposition Range: Keys of C, Bb, F, Eb
Frequency Response Range: 32.70Hz to 7902.13Hz
Warranty: 1 Year
Sweetened Tunings: No
User Presets: 225 Temperaments / 31 User Stretches
Historic Temperaments: Yes
By Jeffrey Taranto on Friday, July 23, 2021
Reviewed on
Peterson Website
Plays 6-String Electric Guitar, 6-String Acoustic Guitar
Simply the best in the business. Hands down. Thank you for decades of Tuning ease & enjoyment !
Was this review helpul to you?
Log in to reply
By Carroll Tomlinson on Friday, September 11, 2020
Reviewed on
Peterson Website
Plays 6-String Electric Guitar, 6-String Acoustic Guitar, 4 String Bass, Mandolin
Phenomenal Tuner! Once you use it, you won't ever want to use any lesser tuner.
Was this review helpul to you?
Log in to reply
By seb-ear-aaaa[@] on Saturday, August 25, 2012
The main reason after an extra $3000 I did not opt for this as a main piece of gear was too many parts to break, and I do not work with bells, vibes, chimes, marimbas, etc enough. These are great for tuning church bells, and other things where the fundamental decays into a harmonic. If I do find one used at a good price I will buy another one. I use the 490 ST most of the time. It still will lock onto harmonics and wolf tones when I do not want it to. This will lock onto everything so my E will show on the E wheel, and if I have a minor 3rd harmonic that will show on another wheel. Wolf tones are not as big a problem either with this and 5ths, I liken this to the TV-2 vacuum tube tester to say the 752 model. 7 meters you have 6 more things to go wrong. The Peterson company still makes a pretty rugged instrument and a good case. Some things are better than ever, some are a little lighter in weight and not as tough. One huge improvement is a constant voltage power supply. Older Conn/Pete ...
Read More
6 people found this review helpful.
Was this review helpul to you?
Log in to reply
By  me-IvMsq on Tuesday, March 17, 2009
Extremely precise, very easy to use, can tune chords, and it shows shows you the fundamental and overtones of each pitch it hears. The perfect tool.
3 people found this review helpful.
Was this review helpul to you?
Log in to reply
By Colton the Bass Trombonist on Monday, December 8, 2008
My high school band has one of these and it works amazingly well. This can tune an instrument from across a band room (30-55 ft) superbly. This is strongly recomended to anyone who needs to tune a group of people, though the price would lead me not to recomend it to an individual musician. An average electric tuner would be ideal for personal use. Band directors: get this tuner!
4 people found this review helpful.
Was this review helpul to you?
Log in to reply
By ProfessorBadAss on Monday, April 14, 2008
we use one of these tuners for highschool marching/concert band and it is very precise, the only bad thing about it is that it picks up every sound in the room.
5 people found this review helpful.
Was this review helpul to you?
Log in to reply
( 2 )
By bluesplyr on Friday, January 11, 2008
Well I thnk im one of the few people who has used this. It is amazing. I played guitar in a jazz band, and every instrument would tune to this tuner. The entire band would be synchronized in moments, it is amazing.
1 person found this review helpful.
Was this review helpul to you?
Log in to reply
Frequently Asked Questions
How do I read a strobe display?
Basically, the strobe image appears to travel to the left if your instrument is flat of the desired pitch and to the right if it is sharp. On earlier models such as the StroboStomp 1, StroboStomp 2, VS-1, VS-II and V-SAM, the strobe image travels upward if your instrument is sharp and downward if your instrument is flat of the desired pitch.
Adjust your instrument until the pattern is as close to still as possible. Strobe displays are 'real-time' and extremely high definition. They require very precise tuning adjustments to stop the display because the frequency/pitch of any instrument is never totally stable.
You'll quickly learn to read the display, make the most precise adjustments and appreciate the high resolution that only a Peterson provides.
Was this helpful?
Help others find this information sooner.
Is the accuracy the same for all Peterson tuners?
Yes, the accuracy is within 0.1 cents (1/1000 of one semitone) as with all Peterson Strobe Tuners. An important thing to note is that Peterson Strobe Tuners have ultra high definition displays, so not only are they highly accurate in detecting a note but they have the ability to display that accuracy. Other products claim accuracy but do not have the high definition screen to display the level of accuracy in which they claim. If you cannot see the accuracy, it is of little value. Only Peterson provides High Definition Strobe Tuning.
Was this helpful?
Help others find this information sooner.
Does my tuner require calibration?
Generally, your tuner will not require calibration and should remain perfectly accurate if it has not been damaged.
Unlike more modern Peterson strobes, legacy models such as the Peterson 400, 420, 450 and 700 do require occasional calibration.
If you require service, please open a support ticket and return the tuner for repair.
Was this helpful?
Help others find this information sooner.
What is my SC5000-II's Sweetened Tunings feature all about?
A Sweetener is a set of cent offsets or a deviation from generic Equal Temperament interval spacing traditionally used in tuning. Tuners made by Peterson, including the SC5000-II, contain many choices of "Sweetness", in other words, several presets with differing interval spacing relevant to the instrument being tuned. If you've never been happy with how your instrument tunes up with your present tuner, a Sweetener could be just the thing to change that without any modifications whatsoever. The SC5000-II offers No unique and very accurate "tweaks" which often make all the difference, try it!
Was this helpful?
Help others find this information sooner.
Is there a carrying case available?
We have carrying cases available that are very useful if you will be frequently traveling with your Peterson tuner. You may purchase your case directly from us at Peterson. Cases are available for the AutoStrobe™ line and the StroboClip HD. The StroboPLUS HD comes with packaging that has been designed to protect your tuner.
Was this helpful?
Help others find this information sooner.
There are no entries matching your search.
Not finding an answer? Open a support ticket for personalized support of your Peterson product.