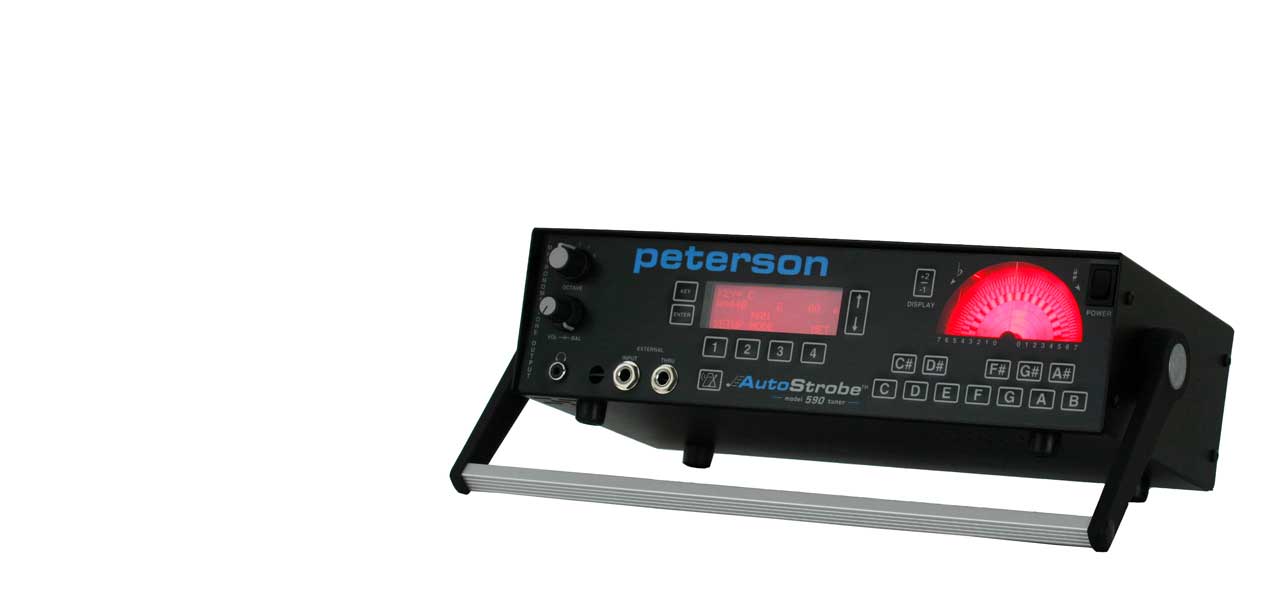 AutoStrobe™ 590
Mechanical strobe tuner/metronome/tone generator
The AutoStrobe 590 is a mechanical tuner that comes complete with built in tone generation and a metronome via headphones or internal speaker output. It combines input audio for contrast against on-board reference pitches.
AutoStrobe 590
Overview
Features
Specifications
Sweeteners
Reviews
Support
Related Products
The AutoStrobe 590 is THE preeminent mechanical strobe tuner for tone generation and metronome facilities. It combines both input instrument tone and audio standard reference tone at the output for simultaneous visual and audible tuning along with exceptional intonation training! The 590's key features (automatic note tracking and audio tone generation capabilities) make it a favorite in the classroom, at the factory, or backstage. And as usual, only a Peterson can respond at the speed of light to display relative tuning information extracted from any audio source down to 0.1 of a cent (1/1000 of a semitone) accuracy! Finally, utilize automatic (hands-free) note selection for fast tune ups of instruments. Proudly made in the USA.

USER-FRIENDLY OPERATION
The AutoStrobe™ 590 allows technicians, musicians, teachers and students of all levels hands-free note selection for convenient tuning of instruments without compromising accuracy.

STABLE, ACCURATE, DIGITALLY-CONTROLLED STROBE
The back-illuminated, eight-octave band strobe disc is spun by a digitally-controlled motor. The rotation speeds are derived from a quartz crystal reference for the ultimate in accuracy and stability.
Automatic Note Selection
Automatic Image Clarity And Contrast Control - Internal Compensation For Optimal Viewing Over A Wide Range Of Source Pitch And Volume.
Enhanced Clarity For Upper And Lower Register Notes - +2/-1 Display Feature Shifts The Strobe Patterns Into More Visible Middle Ranges - Bass Note Patterns Can Be Displayed Two Octaves Higher And Treble Note Patterns Can Be Displayed One Octave Lower In Strobe Display.
External Input And Through Output With Mute - For In-Line, Silent Tuning During Performances.

THE ULTIMATE ACCURACY
Peterson tuning products provide guaranteed tuning results to within +/-0.1 cent. That is 1/1000th of a fret (or a semitone).
This level of accuracy is the highest in the industry and what has made Peterson the choice of professionals around the globe for over 65 years.

VERSATILITY IS THE KEY
Fully programmable metronome with audio and visual feedback. Use the remote footswitch control for hands-free operation in the band room, work shop, or stage.
The high output tone generator with tuning reference feedback allows effective use even in the noisiest of environments with ease.

USA MADE
Proudly designed, manufactured, and tested in Alsip, IL U.S.A.
Since 1948, Peterson Strobe Tuners is deeply committed to innovation as well as excellence in design, manufacturing, and customer service.
Available Tuning Presets ( 8 )
Default
EQU
Standard chromatic tuning/Equal temperament suitable for regular or alternate tuning, 100 cent intervals - no Sweetening.
Guitar & Bass
P5TH
Peterson Sweetener for electric guitar
Historic Temperaments
PYT
Pythagorean Intonation with A base
KRN
Kirnberger III Temperament
YNG
Young Temperament with A base
Compare to Sweetened Tunings offered in other products.
Power Supply: Built-In (IEC)
Foot Pedal Control: Metronome On/Off
Peterson Connect Compatible: No
Stretch Tuning Tables: No
Note Range: C1 to B8
Note Selection: Automatic Or Manual
Form Factor: Desktop/Bench
Accuracy: 0.1 Cents
Display Type: Single Analog Strobe Disc
Display Resolution: Infinite (Analog)
Construction: Metal Casing
Product Dimensions LxWxH: 13.4" x 6.375" x 3.5"
Product Weight: 8lbs. (3.30kg)
USB Port: No
Power: AC 100V to 240V
Built-In Microphone: Yes
Built-In Speaker: Yes
Volume Control: Yes
Headphone Jack: Yes
Metronome: Yes
Inputs: 1/4" Jack
Outputs: 1/4" Thru, 1/4" Speaker Output
Mute-able Output: No
Tone Generator: C2 to B6 (65.40Hz -1975.53Hz)
Concert A Range: 350Hz to 550Hz
Global Cent Offset Range: +/- 50 Cents
Transposition Range: Keys of C, Bb, F, Eb
Frequency Response Range: 32.70Hz to 7902.13Hz
Warranty: 1 Year
User Presets: 64 User Presets
Historic Temperaments: Yes
By Steve Allen on Tuesday, July 18, 2023
Edited on Tuesday, July 18, 2023
Reviewed on
Peterson Website
This is truly a remarkable piece of kit. Well done peterson!
Was this review helpul to you?
Log in to reply
By Andrew Ruggles on Saturday, February 3, 2018
Reviewed on
Peterson Website
Plays 6-String Acoustic Guitar
I am excited to own the gold standard in tuning. When you own a Peterson tuner you own a quality machine that performs to its reputation. The auto-select and manual-select options for notes is a great feature to meet any need. Also the metronome on the 590--heard by built in speaker or headphone input-- makes this machine a musician's one stop shop for practice and performance. If you want accuracy, quality and consistency for your instrument you need a Peterson!
3 people found this review helpful.
Was this review helpul to you?
Log in to reply
By Gilbert Spain on Tuesday, July 8, 2014
This is a great tuner, worth every penny!!
2 people found this review helpful.
Was this review helpul to you?
Log in to reply
By Nathan on Monday, January 21, 2013
First, let me state that I am not a piano tuner. I'm a pianist, and I'm very fussy about the piano that I play being in tune. I have a tuning hammer and some mutes and know enough to get myself in trouble. Prior to using the auto-strobe, I could never have successfully tuned a piano on my own. Now the review: I was first introduced to the Autostrobe tuner by the owner of a local piano store. He used one of these tuners to tune the pianos he delivered. As soon as I watched him fly through a piano with his tuner (faster than I had ever seen anyone tune a piano before) I knew that I had to have one for myself. I knew enough about tuning pianos to touch up unison notes and replace the occasional broken string, but I don't have the experience or know-how to get a temperament right or tune a whole piano. With the autostrobe tuner, I can now tune a whole piano with minimal frustration. It may not be a perfect job, but that's not the fault of the machine - it's me that's the problem. This litt ...
Read More
12 people found this review helpful.
Was this review helpul to you?
Log in to reply
By secchmin on Tuesday, April 15, 2008
I bought my Peterson 590 AutoStrobe awhile back to update my piano tuning business to a more mordern (now digital) strobe with some of the newer bells & whistles that are available now-a-days.I have a Conn Strobotuner ST-6 tube type '60's model,And the Conn Strobotuner ST-11 solid state '70's models. So my compairisons are based on 45 years of piano experiance. The Conn ST-11 improved over the previous ST-6&8 tube type of course ,with no warm up time & lighter weight ,but,same basic controls .This new Peterson 590 AutoStrobe Has all of those older controls but , in easier acsess (once you get used to where they are) . The manuel is pretty easy to understand and apply . I expected more presets (tempers and possibly the strech tunings pre-programed) in this "Model 590" but you are limited to the 8 basic temperments.A couple are usefull for the guitar but,really useless for modern piano tuning.The Auto feature will not be useful at all tuning pianos but,the digital cent adjustment IS more ...
Read More
4 people found this review helpful.
Was this review helpul to you?
Log in to reply
Frequently Asked Questions
Does my AutoStrobe 590 require calibration?
Generally, your AutoStrobe 590 will not require calibration and should remain perfectly accurate if it has not been damaged.
Unlike more modern Peterson strobes, legacy models such as the Peterson 400, 420, 450 and 700 do require occasional calibration.
If you require service, please open a support ticket and return the tuner for repair.
Was this helpful?
Help others find this information sooner.
How do I read a strobe display?
Basically, the strobe image appears to travel to the left if your instrument is flat of the desired pitch and to the right if it is sharp. On earlier models such as the StroboStomp 1, StroboStomp 2, VS-1, VS-II and V-SAM, the strobe image travels upward if your instrument is sharp and downward if your instrument is flat of the desired pitch.
Adjust your instrument until the pattern is as close to still as possible. Strobe displays are 'real-time' and extremely precise. They require very fine tuning adjustments to stop the display because the frequency/pitch of any instrument is never totally stable.
You'll quickly learn to read the display, make the most precise adjustments and appreciate the high resolution that only a Peterson provides.
Was this helpful?
Help others find this information sooner.
Is the accuracy the same for all Peterson tuners?
Yes, the accuracy is within 0.1 cents (1/1000 of one semitone) as with all Peterson Strobe Tuners. An important thing to note is that Peterson Strobe Tuners have ultra high definition displays, so not only are they highly accurate in detecting a note but they have the ability to display that accuracy. Other products claim accuracy but do not have the high definition screen to display the level of accuracy in which they claim. If you cannot see the accuracy, it is of little value. Only Peterson provides High Definition Strobe Tuning.
How Accurate Is My Tuner?
Was this helpful?
Help others find this information sooner.
What is my AutoStrobe 590's Sweetened Tunings feature all about?
A Sweetener is a set of cent offsets or a deviation from generic Equal Temperament interval spacing traditionally used in tuning. Tuners made by Peterson, including the AutoStrobe 590, contain many choices of Sweeteners, in other words, several presets with differing interval spacing relevant to the instrument being tuned. If you've never been happy with how your instrument tunes up with your present tuner, a Sweetener could be just the thing to change that without any modifications whatsoever. The AutoStrobe 590 offers
unique and very accurate tweaks which often make all the difference.
Peterson Tuners - Sweetened Tunings
Was this helpful?
Help others find this information sooner.
Is there a carrying case available?
We have carrying cases available that are very useful if you will be frequently traveling with your Peterson tuner. You may purchase your case directly from us at Peterson.
Cases are available for the AutoStrobe™ line, the StroboClip HD and the StroboPLUS HD/HDC.
Was this helpful?
Help others find this information sooner.
There are no entries matching your search.
Not finding an answer? Open a support ticket for personalized support of your Peterson product.