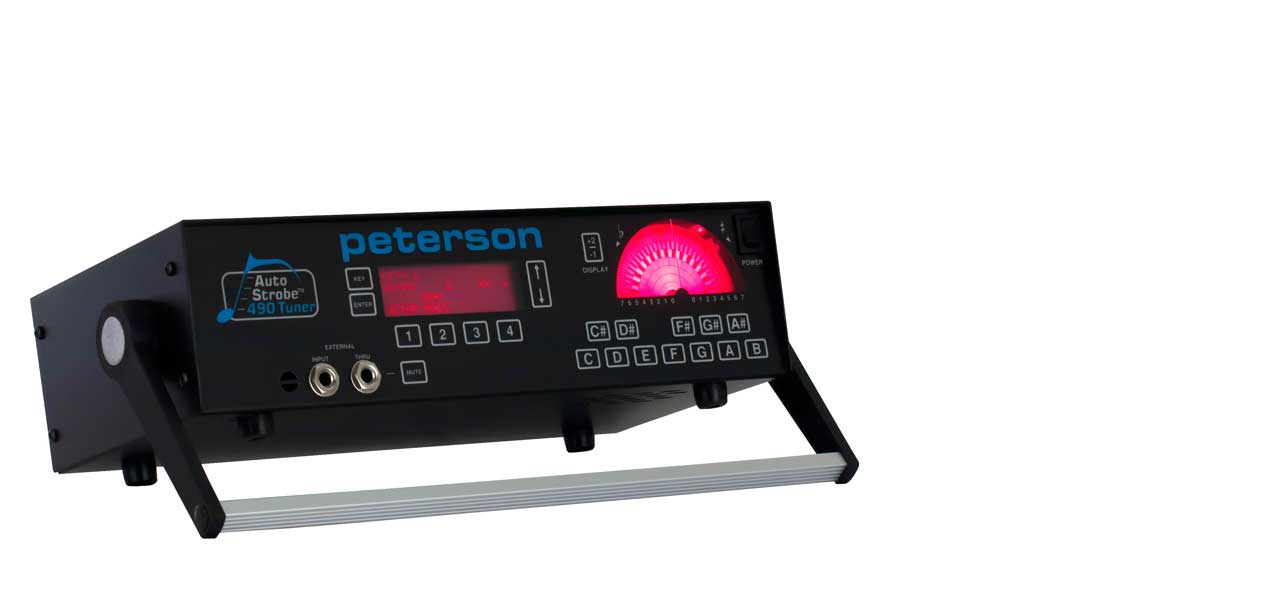 AutoStrobe™ 490
Accuracy At The Speed of Light.
$759.00 - $779.00
Free US Shipping
The AutoStrobe 490 brings accuracy that only the speed of light could measure. ONLY Peterson!
AutoStrobe 490
Overview
Features
Specifications
Sweeteners
Reviews
Support
Related Products
Peterson's very accurate tuner.

As a musical instrument maker I have several tuning aids which have served me well over the years but I was looking for a device that would recognise more concisely certain notes that other tuners fail to be happy about. Also I wanted a tuner that would measure harmonic positions within a complex sound. This is at times a tall order but I think the Auto Strobe 490 is achieving this. My first tuner ...

- geoffrey
The Peterson AutoStrobe 490 is agreed by music students, technicians, and professionals to be the standard by which all tuners are measured. Only Peterson could bring you the kind of real- time intonation critical enough for ear training use. Enjoy hands-free note selection for fast, accurate tuning of instruments. Other companies may boast of their strobe tuner capabilities, but buyer beware!
The AutoStrobe 490 is a truly stroboscopic mechanical tuner capable of fundamental and overtone display.
Key features include mutable throughputs for in-line (yet silent) tuning during performances, automatic image clarity and contrast control which internally compensate for optimal viewing over a wide range of source pitch and volume, improved clarity for upper and lower register notes (our +2/-1 display feature shifts the strobe patterns into more visible middle ranges so that bass note patterns can be displayed two octaves higher and treble note patterns can be displayed one octave lower in strobe display), and easy transposition (strobe patterns appear at the correct note for Bb, F, and Eb instruments).

HARMONIC CONTENT AT-A-GLANCE
Real-time display of intonation and harmonic content to improve performance and listening skills while playing.

TUNING AT THE SPEED OF LIGHT
Instantaneous visual indication of how much the pitch of your instrument differs from the precise target pitch you are trying to tune.
Available Tuning Presets ( 8 )
Default
EQU
Standard tuning temperament suitable for regular or alternate tuning, 100 cent intervals - no Sweetening.
Guitar & Bass
P5TH
Tempered for clean 5ths when playing electric guitar with distortion.
Historic Temperaments
JUMA
Just Major Intonation
PYTH
Pythagorean Temperament
MEAN
Quarter Comma Meantone Temperament
KRN3
Kirnberger III Temperament
WRK3
Werckmeister III Temperament
Compare to Sweetened Tunings offered in other products.
Automatic Note Selection
Automatic Image Clarity And Contrast Control - Internal Compensation For Optimal Viewing Over A Wide Range Of Source Pitch And Volume.
Enhanced Clarity For Upper And Lower Register Notes - +2/-1 Display Feature Shifts The Strobe Patterns Into More Visible Middle Ranges - Bass Note Patterns Can Be Displayed Two Octaves Higher And Treble Note Patterns Can Be Displayed One Octave Lower In Strobe Display.
External Input And Through Output With Mute - For In-Line, Silent Tuning During Performances.

MANUAL NOTE SELECTION
Tune in loud environments quickly and easily. Perfect for band rooms, loud sound stages, and manufacturing environments.

PROFESSIONAL'S CHOICE
Trusted by industry pros for over 65 years to deliver dependable performance and accurate tuning to some of the largest stage acts in musical history.

USA MADE
Proudly designed, manufactured, and tested in Alsip, IL U.S.A.
Since 1948, Peterson Strobe Tuners is deeply committed to innovation as well as excellence in design, manufacturing, and customer service.
Power Supply: Built-In (IEC)
Stretch Tuning Tables: No
Note Range: C1 to B8
Note Selection: Automatic Or Manual
Peterson Connect Compatible: No
Form Factor: Desktop/Bench
Accuracy: 0.1 Cents
Display Type: Single Analog Strobe Disc
Display Resolution: Infinite (Analog)
Construction: Metal Casing
Product Dimensions LxWxH: 13.4" x 6.375" x 3.5"
Product Weight: 7lbs. (3.18kg)
USB Port: No
Power: AC 100V to 240V
Built-In Microphone: Yes
Built-In Speaker: No
Metronome: No
Inputs: 1/4" Jack
Outputs: 1/4" Thru
Mute-able Output: Footswitch Controlled
Tone Generator: No
Concert A Range: 350Hz to 550Hz
Global Cent Offset Range: +/- 50 Cents
Transposition Range: Keys of C, Bb, F, Eb
Frequency Response Range: 32.70Hz to 7902.13Hz
Warranty: 1 Year
User Presets: 64 User Presets
Historic Temperaments: Yes
By Joe on Saturday, January 19, 2019
Reviewed on
Peterson Website
Plays 6-String Acoustic Guitar, Dobro® / Resonator Guitar, 6-String Electric Guitar
1 person found this review helpful.
Was this review helpul to you?
Log in to reply
By John Earle on Monday, November 26, 2018
Reviewed on
Peterson Website
Plays 6-String Electric Guitar, 6-String Acoustic Guitar
Very nice, and very accurate, but I would like to see the display indicate exactly how many cents over or under the exact pitch any note is. This would be very convenient, at least in setting up guitars, which is one of the tasks for which I use this. The value can be determined, but it is a little bit of a hassle. Otherwise, I am 100% satisfied with the purchase. Does everything I expected and then some. A fine instrument.
Was this review helpul to you?
Log in to reply
By Colin Thomson on Tuesday, May 22, 2018
Edited on Tuesday, May 22, 2018
Reviewed on
Peterson Website
Plays 6-String Electric Guitar, 6-String Acoustic Guitar, Dobro® / Resonator Guitar, 5-String Banjo, 10 String Pedal Steel Guitar
I have always been interested in setting up my guitar and piano accurately as well as having the means to service reed instruments. Although I'm not on a professional level, I've found that very high and very low notes tend to confuse other types of tuning devices, this was achievable with the Peterson 490 Strobe Tuner.
2 people found this review helpful.
Was this review helpul to you?
Log in to reply
By buffy sci fi on Monday, August 21, 2017
Best on the market and excellent support from the manufacturer
4 people found this review helpful.
Was this review helpul to you?
Log in to reply
Frequently Asked Questions
How do I read a strobe display?
Basically, the strobe image appears to travel to the left if your instrument is flat of the desired pitch and to the right if it is sharp. On earlier models such as the StroboStomp 1, StroboStomp 2, VS-1, VS-II and V-SAM, the strobe image travels upward if your instrument is sharp and downward if your instrument is flat of the desired pitch.
Adjust your instrument until the pattern is as close to still as possible. Strobe displays are 'real-time' and extremely high definition. They require very precise tuning adjustments to stop the display because the frequency/pitch of any instrument is never totally stable.
You'll quickly learn to read the display, make the most precise adjustments and appreciate the high resolution that only a Peterson provides.
Was this helpful?
Help others find this information sooner.
Is the accuracy the same for all Peterson tuners?
Yes, the accuracy is within 0.1 cents (1/1000 of one semitone) as with all Peterson Strobe Tuners. An important thing to note is that Peterson Strobe Tuners have ultra high definition displays, so not only are they highly accurate in detecting a note but they have the ability to display that accuracy. Other products claim accuracy but do not have the high definition screen to display the level of accuracy in which they claim. If you cannot see the accuracy, it is of little value. Only Peterson provides High Definition Strobe Tuning.
Was this helpful?
Help others find this information sooner.
What is my 's Sweetened Tunings feature all about?
A Sweetener is a set of cent offsets or a deviation from generic Equal Temperament interval spacing traditionally used in tuning. Tuners made by Peterson, including the
, contain many choices of "Sweetness", in other words, several presets with differing interval spacing relevant to the instrument being tuned. If you've never been happy with how your instrument tunes up with your present tuner, a Sweetener could be just the thing to change that without any modifications whatsoever. The offers unique and very accurate "tweaks" which often make all the difference, try it!
Was this helpful?
Help others find this information sooner.
Is there a carrying case available?
We have carrying cases available that are very useful if you will be frequently traveling with your Peterson tuner. You may purchase your case directly from us at Peterson. Cases are available for the AutoStrobe™ line and the StroboClip HD. The StroboPLUS HD comes with packaging that has been designed to protect your tuner.
Was this helpful?
Help others find this information sooner.
Does my tuner require calibration?
Generally, your tuner will not require calibration and should remain perfectly accurate if it has not been damaged.
Unlike more modern Peterson strobes, legacy models such as the Peterson 400, 420, 450 and 700 do require occasional calibration.
If you require service, please open a support ticket and return the tuner for repair.
Was this helpful?
Help others find this information sooner.
There are no entries matching your search.
Not finding an answer? Open a support ticket for personalized support of your Peterson product.