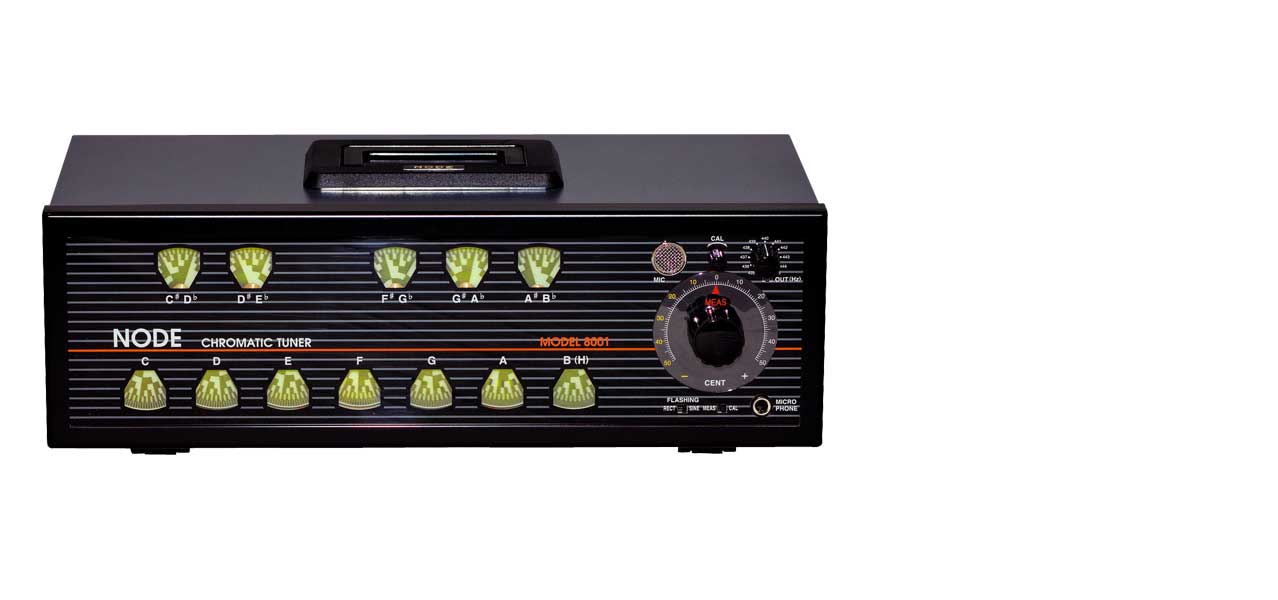 Node 8001
12 Wheel Strobe Tuner
This tuner features 12-wheel (one strobe per scale note) mechanical tuning…all in a streamlined chassis!
Node 8001
Overview
Features
Specifications
Reviews
Support
The Node 8001 12-Wheel Strobe tuner has a very streamlined analog interface that vividly shows you 12 wheels…one per scale note. The fundamental and its overtones are simultaneously displayed in a single chromatic backlit display that is bright, vivid, and easy to see. The small footprint and "as compact as can be" Node brings an easy-to-use interface to a complex process with unrivaled accuracy and seven octave coverage (C1 to B7).
All of the controls are focused around one large rotary Vernier dial, making quick adjustments a breeze. Easily make adjustments for calibration and concert pitch and get into the device via our onboard condenser microphone or line input….it's as easy as that! Only our microprocessor controlled, computer grade motors offer the lightning-fast wind-up/wind-down times that round out this fully featured package!

STREAMLINED CONTROLS
Front panel selectable concert A range from 435Hz to 445Hz avoids the need for complex electronic menus.
Large vernier knob makes on-the-fly cent adjustments easy and fast. Globally offset the Node 8001 to match tuning to non-standard pitches (such as piano).
Built-in mic for open room tuning such as in bandroom or quickly isolate an instrument by attaching a micr or pickup to the front panel microphone input.
12 WHEELS / 7 OCTAVES
The Node 8001 offers one strobe wheel for each note in the scale with a full 7-octave display of each note.
Easily view harmonic content with stunning accuracy.
Digital Fine-Tuning Pitch Control For Precise Measurement Of Intonation Accuracy.
Tuning Accuracy Better Than 1/1000 Of A Semitone - Accurate To 1/10 Of A Cent.
Calibration To Any Pitch Standard - A=440 Default.
Quiet Operation - No Noisy Gear Drives.
Selectable LED Strobe Rate

SELECTABLE FLASH RATE
The Node 8001 comes with a user-selectable frequency control. Use the RECT (rectangular wave) reference for best imaging on pure tones while complex, harmonically-rich tones can be best viewed using the SINE (sine wave) option.
Power Supply: External (Included)
Note Range: C1 to B7
Note Selection: All Notes Visible
Stretch Tuning Tables: No
Peterson Connect Compatible: No
Accuracy: 0.1 cents
Form Factor: Desktop
Display Type: 12 Analog Strobe Discs
Display Resolution: Infinite (Analog)
Construction: Wood Casing
Product Dimensions LxWxH: 20" x 13.5" x 6.5"
Product Weight: 25lbs
USB Port: No
Power: AC 100V to 240V
Built-In Microphone: Yes
Built-In Speaker: No
Inputs: 1/4" Microphone
Outputs: None
Concert A Range: 435Hz to 445Hz
Global Cent Offset Range: +/- 50 Cents
Frequency Response Range: 32.70Hz to 3951.04Hz
Warranty: 1 Year
Sweetened Tunings: No
User Presets: No
Historic Temperaments: Equal Only
There are no reviews matching your search criteria.
Frequently Asked Questions
Does my Node 8001 require calibration?
Generally, your Node 8001 will not require calibration and should remain perfectly accurate if it has not been damaged.
Unlike more modern Peterson strobes, legacy models such as the Peterson 400, 420, 450 and 700 do require occasional calibration.
If you require service, please open a support ticket and return the tuner for repair.
Was this helpful?
Help others find this information sooner.
How do I read a strobe display?
Basically, the strobe image appears to travel to the left if your instrument is flat of the desired pitch and to the right if it is sharp. On earlier models such as the StroboStomp 1, StroboStomp 2, VS-1, VS-II and V-SAM, the strobe image travels upward if your instrument is sharp and downward if your instrument is flat of the desired pitch.
Adjust your instrument until the pattern is as close to still as possible. Strobe displays are 'real-time' and extremely precise. They require very fine tuning adjustments to stop the display because the frequency/pitch of any instrument is never totally stable.
You'll quickly learn to read the display, make the most precise adjustments and appreciate the high resolution that only a Peterson provides.
Was this helpful?
Help others find this information sooner.
Is the accuracy the same for all Peterson tuners?
Yes, the accuracy is within 0.1 cents (1/1000 of one semitone) as with all Peterson Strobe Tuners. An important thing to note is that Peterson Strobe Tuners have ultra high definition displays, so not only are they highly accurate in detecting a note but they have the ability to display that accuracy. Other products claim accuracy but do not have the high definition screen to display the level of accuracy in which they claim. If you cannot see the accuracy, it is of little value. Only Peterson provides High Definition Strobe Tuning.
How Accurate Is My Tuner?
Was this helpful?
Help others find this information sooner.
What is my Node 8001's Sweetened Tunings feature all about?
A Sweetener is a set of cent offsets or a deviation from generic Equal Temperament interval spacing traditionally used in tuning. Tuners made by Peterson, including the Node 8001, contain many choices of Sweeteners, in other words, several presets with differing interval spacing relevant to the instrument being tuned. If you've never been happy with how your instrument tunes up with your present tuner, a Sweetener could be just the thing to change that without any modifications whatsoever. The Node 8001 offers No unique and very accurate tweaks which often make all the difference.
Peterson Tuners - Sweetened Tunings
Was this helpful?
Help others find this information sooner.
How accurate is my Node 8001?
Your Node 8001 is accurate to 0.1 cent (1/1000th of a semitone). It's important to note, that unlike other tuners which list the detection accuracy as the main specification, the Node 8001 detection AND display accuracy is 0.1 cent due to its high definition display.
How Accurate Is My Tuner?
Was this helpful?
Help others find this information sooner.
There are no entries matching your search.
Not finding an answer? Open a support ticket for personalized support of your Peterson product.