At Peterson Tuners, your privacy is important to us. As a result, we've developed a Privacy Policy that covers how we collect, use, disclose, transfer, and store your information. Please take a moment to review our privacy practices and contact us if you have any questions.
What information do we collect? We collect information from you when you subscribe to our newsletter, general news, product update pages or fill out a form. When registering on our site, as appropriate, you may be asked to enter your email address. You may, however, visit our site anonymously.
What do we use your information for? Any of the information we collect from you may be used in one of the following ways:
• To send periodic email communications
• To improve our website (we continually strive to improve our website offerings based on the information we receive from our users)
If you decide to opt-in to our mailing list, you will receive emails that may include reviews, updates, related product information, etc.
Opt-Out Policy
If, at any time after registering for our newsletter, general news, or product update pages, you change your mind about receiving information from us or about the use of information volunteered by you; please send us a request specifying your new choice. To opt out of marketing or promotional emails, please either click 'unsubscribe' in the body of the email communication or contact us to be removed.
How do we protect your information?
We implement a variety of security measures to maintain the safety of your personal information.
Do we use cookies?
Yes. Cookies are small files that a site or its service provider transfers to your computer's hard drive through your Web browser (if you allow) that enables the sites or service provider's systems to recognize your browser and capture and remember certain information. We use cookies to understand and save your divferences for future visits and compile aggregate data about site traffic and site interaction so that we can offer better site experiences and tools in the future. We may contract with third-party service providers to assist us in better understanding our site visitors. These service providers are not permitted to use the information collected on our behalf except to help us conduct and improve our business.
Do we disclose any information to outside parties?
We do not sell, trade, or otherwise transfer to outside parties your personally identifiable information. We may release your information when we believe release is appropriate to comply with the law, enforce our site policies, or protect our or others' rights, property, or safety. However, non-personally identifiable visitor information may be provided to other parties for marketing, advertising, or other uses.
Third Party Links
Occasionally, we may include third-party links on our website. These websites have separate and independent privacy policies. We therefore have no responsibility or liability for the content and activities of these linked sites. Nonetheless, we seek to protect the integrity of our site.
Illinois Online Privacy Protection Act Compliance
Because we value your privacy we have taken the necessary precautions to be in compliance with the Illinois Online Privacy Protection Act. We therefore will never distribute your personal information to outside parties without your consent.
Online Privacy Policy Only
This online Privacy Policy applies only to information collected through our website and not to information collected offline.
Your Consent
By using our site, you consent to our Privacy Policy. Changes to our Privacy Policy If we decide to change our Privacy Policy, we will post those changes on this page, and/or update the Privacy Policy modification date above.
Contacting Us
If you have any questions regarding this Privacy Policy you may contact us.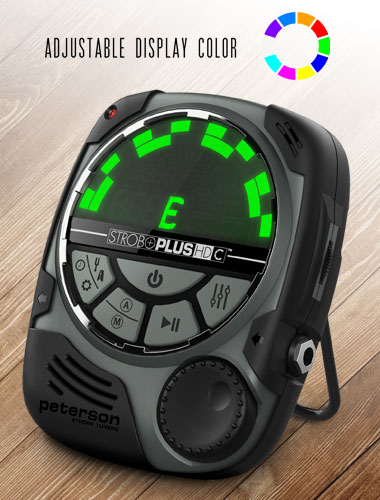 Enjoy 10% off
Let's stay connected
Simply sign up for our email list and we'll send you a unique coupon code, plus other exclusive savings!*
Thanks for joining ouir mailing list!
Keep an eye on your inbox. Your exclusive offer will be arriving soon.
* Must enter email address to receive unique promo code. Upon confirmation of eligibility, subscribers will receive a one-time use promo code for 10% off their purchase at PetersonTuners.com, including mechanical tuners, Virtual Series™ strobe tuners, StroboSoft™ desktop software, BodyBeat™ series metronomes, and accessories. Discounts do not apply toward the purchase of iStroboSoft for Android or iOS or Node products. Offer subject to change at any time. Cannot be combined with another promotional offer. To take advantage of this one-time use offer enter your email address and the offer code will be delivered to that address. Please add petersontuners@petersontuners.com to your safe list to prevent your offer from going to spam. Your email address information is kept private.
Privacy Policy.
Need Help?