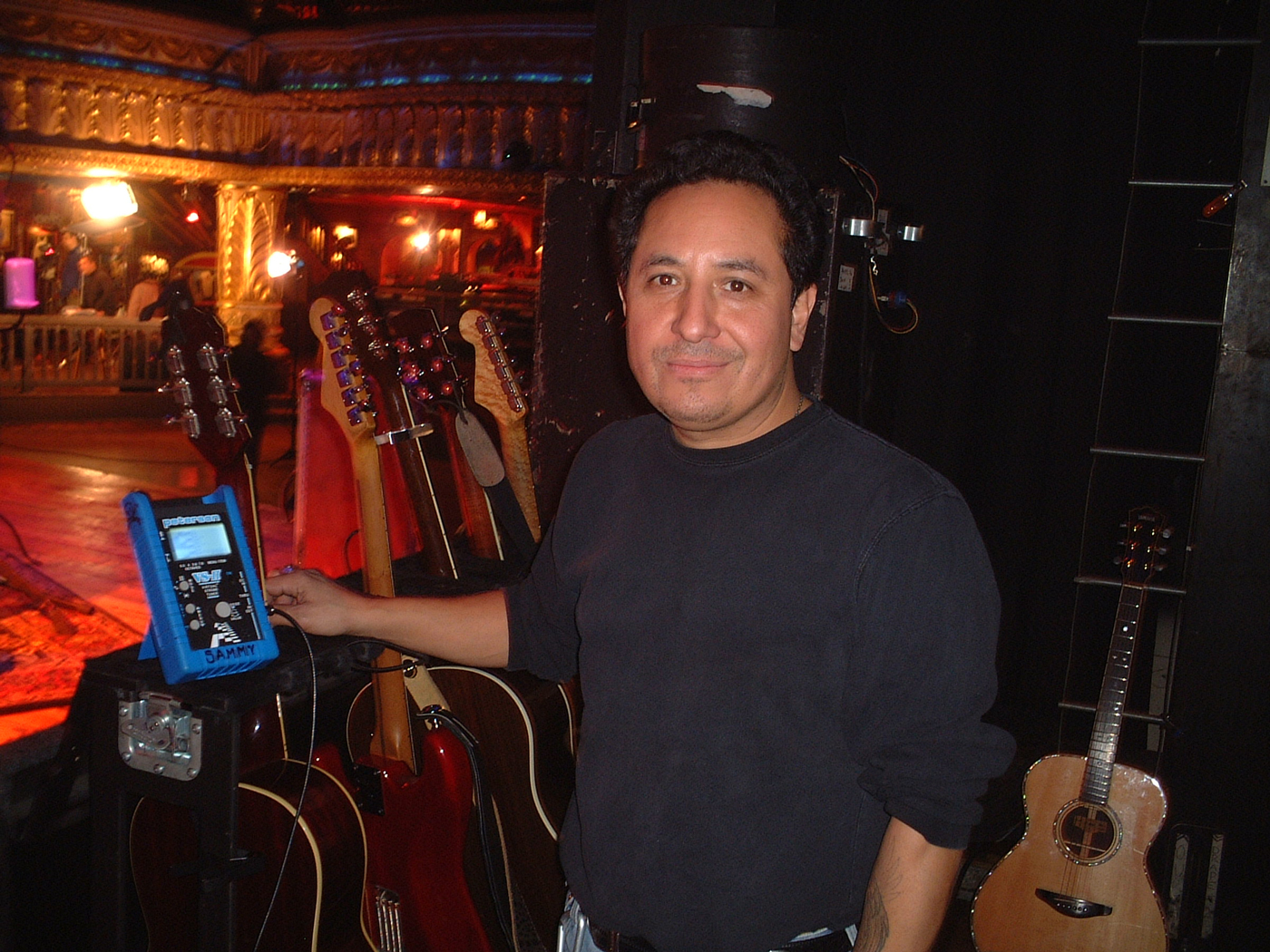 Sammy Sanchez

Sammy Sanchez
Overview
Products
Instruments
Videos
Sammy Sanchez is known as one of the premier guitar technicians in the world. Something of an all-rounder, he's a luthier, lap-steel player and guitar tech. We showed up to see him while on tour with Keb' Mo' who, along with Ben Harper, values Sammy's many skills as a player in the band and also as highly a skilled technician and luthier.
He got his start 30 years ago as an apprentice at the historical "Nadine's" guitar shop in Hollywood. Nadine's was the hot spot for celebrity artists in the 1980's. The quality of Sammy's work spread by word of mouth and soon he was in high demand. Through the 80s & 90s he toured with Krokus,Ted Nugent, Hughes Thrall Band, Everlast, Larry Carlton, Lee Ritenour, Toto, Four Play etc, always keeping Nadine's as his home base.
Later he began building his own line of fretted instruments "Sammy Sanchez Custom". He brought his craft to a new level by building some unique and rare fretted instruments for artists like KISS (the guitar that lights up) David Lindley's custom lap steel, Mike Alberts (MegaDeth) black custom, Strats For Slash with Les Paul scale, designing & building some very cool guitars with Terence Trent Darby.
After a few years as a luthier, he came to the conclusion that building a guitar takes a few months, and he could generate the same income as a tour technician in a week. Much to the dismay of guitar collectors and musicians, he discontinued his line and took the task of touring for some of the music industries top talent.
His client roster is as follows: Ted Nugent, James Taylor, Keb Mo, Jack Johnson, Carlos Santana, Larry Carlton, Foreplay, Stephen Stills, Robben Ford, Slash, Ben Harper, Jackson Browne, Morrisey, Steven Seagal, Guns & Roses, The Black Crowes, ZZ Top, Motley Crue, Poison, Mike Albert Project, Billy Bob Thorton, Bonnie Raitt, Michelle Branch, Don Henley Band, Toto, Lenny Kravitz Band.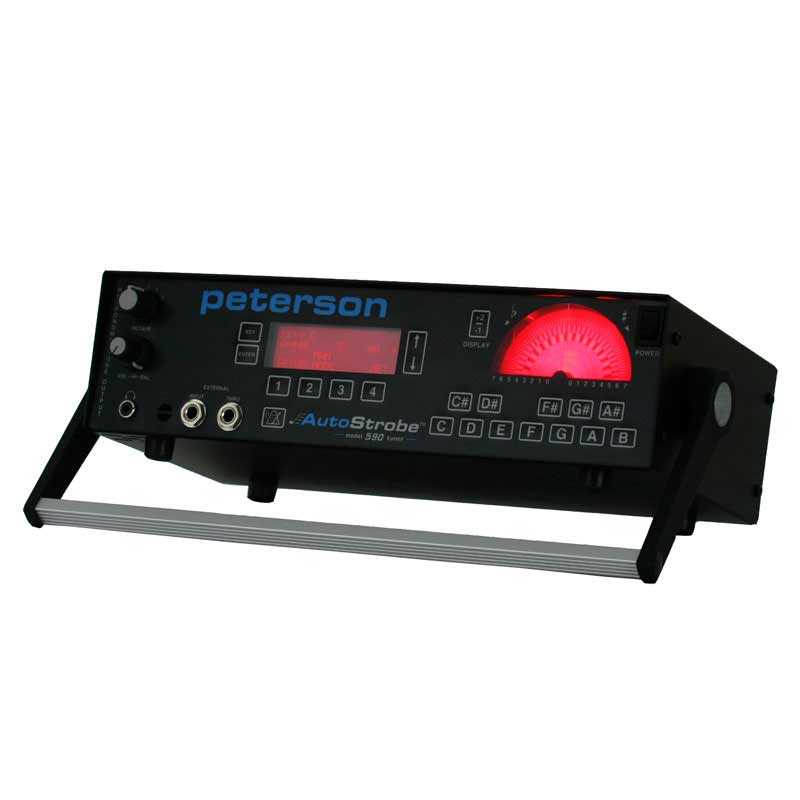 AutoStrobe 590
$1,175.00
The AutoStrobe 590 is THE preeminent mechanical strobe tuner for tone generation and metronome facilities. It combines both input instrument tone and audio standard reference tone at the output for simultaneous visual and audible tuning along with exceptional intonation training! The 590's key features (automatic note tracking and audio tone generation capabilities) make it a favorite in the classroom, at the factory, or backstage. And as usual, only a Peterson can respond at the speed of light to display relative tuning information extracted from any audio source down to 0.1 of a cent (1/1000 of a semitone) accuracy! Finally, utilize automatic (hands-free) note selection for fast tune ups of instruments. Proudly made in the USA.
MORE
Tech Talk 2009 Grammys 0001
the Rain Song: Sammy Sanchez & Carlos De La Paz
Need Help?
Select a maximum of 4 products to compare.