"Deptford" John Armitage
Overview
Products
Videos
John started his music industry career back in 1978 as a favour for his next door neighbour and has never looked back!
He has repaired and maintained guitars literally across the globe both on tour and in the studio, working with rock acts such as: IRON MAIDEN • THE BLACK CROWES • MOTORHEAD • MANIC STREET PREACHERS • DOGS D'AMOUR • THE VERVE •THE CHOIRBOYS • DEF LEPPARD • STEREOPHONICS • WHITESNAKE • DREAM THEATRE • SCORPIONS with the ultimate rock gig being SPINAL TAP at Wembley Stadium for Live 8 where John had 11 bass players to look after during one song!
He has looked after guitars and basses for the top session players in the UK on massive arena and stadium pop tours over the years including: THE SPICE GIRLS • S CLUB 7 • GEORGE MICHAEL • POP IDOL and the reunited juggernaut that is TAKE THAT – their 2009 tour being an 80 truck tour of the UK's stadiums where John looked after 5 different musicians.
He has worked with many female artists and their bands including: ANNIE LENNOX • MARIANNE FAITHFUL • ALANNIS MORISETTE • SARAH BRIGHTMAN • NATALIE IMBRUGLIA • MEL C • KYLIE.
As well as a variety of eclectic artists such as: JOHN SPENCER BLUES EXPLOSION • ROBERT PALMER • NICK LOWE • JAMES • NEW ORDER • CRAIG DAVID • DANIEL BEDINGFIELD.
John also maintains several private guitar collections for various music industry luminaries including MICK JAGGER. As well as maintaining and repairing guitars under extremely pressurised circumstances (backstage, understage, in the dark, mid stadium show, mid song……!) John also builds and maintains guitar systems to create the individual sound required by the guitarist on particular tracks in the studio as well as on tour. Needless to say, Deptford's choice of tuner is Peterson.
Deptford John's guide to buying a guitar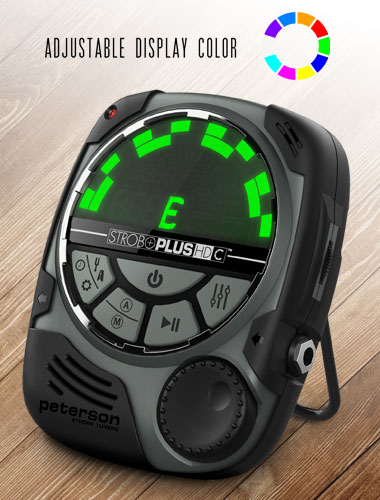 Enjoy 10% off
Let's stay connected
Simply sign up for our email list and we'll send you a unique coupon code, plus other exclusive savings!*
Thanks for joining ouir mailing list!
Keep an eye on your inbox. Your exclusive offer will be arriving soon.
* Must enter email address to receive unique promo code. Upon confirmation of eligibility, subscribers will receive a one-time use promo code for 10% off their purchase at PetersonTuners.com, including mechanical tuners, Virtual Series™ strobe tuners, StroboSoft™ desktop software, BodyBeat™ series metronomes, and accessories. Discounts do not apply toward the purchase of iStroboSoft for Android or iOS or Node products. Offer subject to change at any time. Cannot be combined with another promotional offer. To take advantage of this one-time use offer enter your email address and the offer code will be delivered to that address. Please add petersontuners@petersontuners.com to your safe list to prevent your offer from going to spam. Your email address information is kept private.
Privacy Policy.
Need Help?
Select a maximum of 4 products to compare.