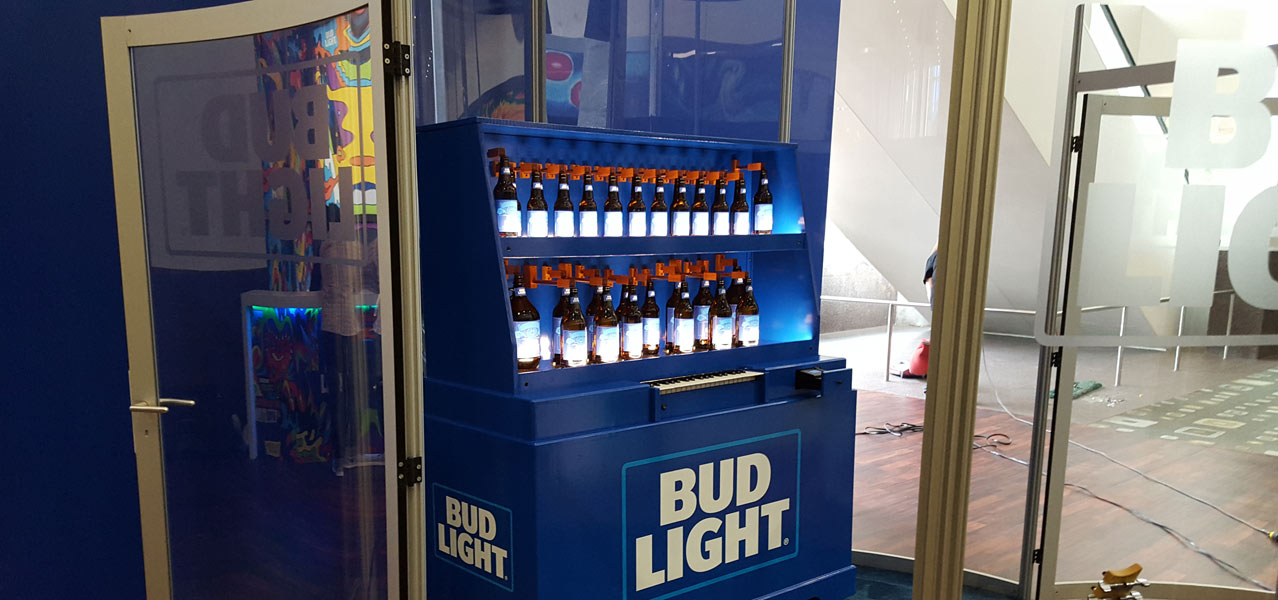 Peterson Beer Bottle Organ
Hand Crafted MIDI Capable Organ With Tuned Glass Bottles!
The organ as shown is self contained with brass fittings, lighting and is housed in a wooden enclosure on casters. It includes an air pump controller and self playing device which allows the organ to also play tunes unaided, it is also possible to make it coin-operated.
The story stretches back to 1798, on the island of Helgoland (formerly Danish territory, now German) whose church congregation were tired of paying for an organ tuner to sail out every month to tune the church organ. The pastor, who was tired of hearing the complaints, subsequently commissioned an ex-mercenary soldier/organ builder from Eisleben, (later East Germany) called Johann Samuel Kühlewein, to build an organ which would not go out of tune due to changes in temperature or weather conditions. Kühlewein thought about it for a while and decided to build an organ using bottles instead of standard organ pipes and using sealing wax to fine tune the bottles. This organ spent a long life on the island until it became depopulated in the late 1800s and the organ fell into disrepair.
Exactly 200 years and 4500 miles later in 1998, we at Peterson were preparing for our 50th anniversary celebrations when one of our organ system engineers, Gary Rickert, had the idea, to build an organ that played bottles and showcased the confluence of our company's renowned pipe organ components, high-precision tuning equipment, and fine woodworking. Just like Johann Samuel Kühlewein before him, he set about working on weekends and late into the night, experimenting with different bottle sizes and shapes, fluids, and air nozzle designs. Together with woodshop supervisor Joe Farmer & cabinet maker Bill Bernahl they tried several different kinds of designs until they finally found the answer… For more information regarding the Peterson Bottle Organ contact Pat Bovenizer.
The sound is actually produced by blowing air over the tops of real bottles.
We "tune" it ourselves using Strobe Tuners of which we are the sole manufacturer.
Yes, we empty the bottles ourselves too!
No, you don't have to keep re-tuning the bottles due to evaporation. We use a mineral oil as a tuning medium because it doesn't evaporate. (An epoxy is used on permanent installations.)
Yes, you can play it with a keyboard OR as a MIDI device.
Yes, the entire organ is made here in Chicago, we are a 68 year old organ component manufacturer (Radio City Music Hall in NY contains some of our equipment).
It takes about 2 months to make a Bottle Organ, unless its a custom job with fancy features.
Yes, it's an extremely effective attraction for your exhibit, lobby, plant tour, or restaurant to name a few. (Just ask anyone who travels down our aisle at trade show conventions!)
Yes, whether it's "Ninety-Nine Bottles Of Beer On The Wall" or a Bach fugue... It Sounds Fantastic!