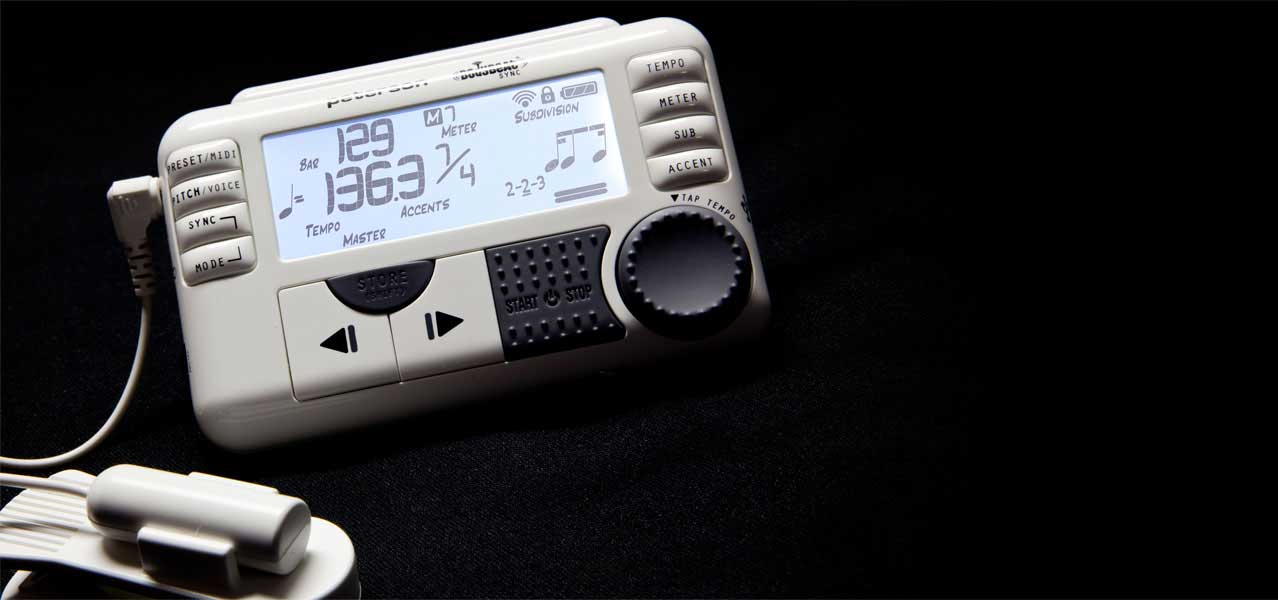 BodyBeat Sync™
The World's Most Versatile Metronome
The BodyBeat Sync allows you to hear, see, and FEEL the beat of the music. You can even wirelessly connect multiple units to have perfect performance synchronization with your fellow musicians!
BodyBeat Sync
Overview
Specifications
Support
Related Products
Downloads
The BodyBeat Sync® represents the ultimate in musical tempo reference devices. As a fully featured metronome, it is capable of transmitting the beat by visual, aural and tactile means. Wireless functionality allows two or more BodyBeat Syncs to work in synchronicity with one another, allowing the networking of multiple units on stage, in the recording studio, band room or anywhere the precise synchronization of a performance and its performers is required.
The BodyBeat Sync can store up to 100 user presets consisting of tempo, meter, subdivision and accent pattern. All preset information is transmitted to each synchronized unit as well as the current bar count of the active preset. If the 100 user presets do not provide enough versatility, the "tempo map" from an entire musical score can be stored in the BodyBeat Sync via the mini USB cable. A standard MIDI file can be used or a custom "tempo map" can be designed via the free application on the BodyBeat Sync website.
Additionally, the BodyBeat Sync can be driven by a DAW using MIDI Clock via the mini USB cable.
The mini USB connection is not only used to charge the BodyBeat Sync, but provides a means for always keeping the unit's firmware current. You will never need another metronome!

ENDLESS COMBINATIONS
The BodyBeat Sync features a complex metronome engine capable of producing endless combinations of rhythmic patterns. Meter or Time Signature parameters are independently adjustable allowing 1 - 12 beats per measure over a beat value of 2, 4, 8 or 16. Subdivision selections are based on the chosen beat value and will display correctly notated for 1 beat.

ACCENT PATTERNS
Selectable Accent Patterns vary upon the number of beats per measure and allow for the division of longer beat counts into groups of 2 and 3 ( every possible combination included ). Tempo can be adjusted from 10 - 280 BPM.

WIRELESS SYNCHRONIZATION
The BodyBeat Sync has the ability to form synchronized, wireless groups of unlimited members. Any BodyBeat Sync can either function as a "Master" unit within a group, or as a "Sync" unit or member.
Creating or joining a group is simple. Once a group is formed, each member or leader of the group will remember its group and its role within the group even when shut off and on.
Members of a group of BodyBeat Sync Metronomes will stay perfectly synchronized within a 100 yard radius of the master.

UNIQUE GROUPS
Individually formed groups of metronomes will not interfere with each other as they operate on wireless network protocol. For example, this group of 9 BodyBeat Sync metronomes can operate as 3 seperate networks of 3 members within the same room.

REMOTE CONTROL NETWORK
With just two BodyBeat Sync Metronomes, a network can be created to wirelessly control a fixed-location unit that is patched into an amplification system. This eliminates the need to run long lengths of cable to the rear of a rehearsal space.

PRACTICE PATTERNS
There are 14 additional Presets beyond the initial 100 user definable memory locations in the BodyBeat Sync that are named rather than numbered. These additional presets are two bar patterns in which only the tempo setting is editable/storeable.
2-3 and 3-2 presets of Son, Rumba and Bossa clave patterns are provided in 4/4 and 6/8. Common bell patterns such as Cascara and Agogo are also available in both clave directions.

INTERNALIZE THE BEAT
The BodyBeat Sync offers a new approach on typical metronome use by producing a pulsing vibration allowing musicians to easily internalize the beat and develop a note value relationship both audibly and physically.
For convenience, the BodyBeat Sync can clip onto the belt line and a small separate "vibe clip" transmits the beat, in the form of a pulse (including subdivisions and accents) directly to the user.
The BodyBeat Sync can also be used like an ordinary metronome with audible and visual modes making it suitable for all musicians.

TEMPO MAPS
The BodyBeat Sync is capable of storing 9 MIDI Tempo Maps in its local memory. A MIDI Tempo Map is a MIDI file that has been imported into the BodyBeat Sync via the BodyBeat Sync USB software. Once imported, only the meter changes, tempo changes and number of bars are stored in the BodyBeat Sync memory. Up to 999 bars can be stored in each of nine memory locations.
MIDI Tempo Maps can also be created from scratch using a free online application on the BodyBeat Sync website. Create up to 999 bars of meter and tempo information with the intuitive 'drag and drop' interface. View your creation as a chart or list of tempo and meter events.
Form Factor: Handheld / Wear-able
Tempo Range: 10 - 280 Quarter Notes per Minute
Meters: 1-12 / 2,4,8,16
Subdivisions: Over 23 Meter Specific
Tempo Maps: 9 Banks of 1000 Bars Each
Display Type: LCD
Product Dimensions LxWxH: 4.25" x 3" x 1"
Product Weight: 0.85lbs
USB Port: Yes
USB Type: Mini
Rechargeable: Yes
Battery Type: Lithium Ion
Power: AC ( USB ) 5V 500 mA
Built-In Microphone: No
Built-In Speaker: Yes
Volume Control: Yes
Headphone Jack: Yes
Outputs: 3.5mm Headphone, Auxillary, Vibe Clip
Tone Generator: C1 to C8
Concert A Range: Tone Generator 390Hz - 490 Hz
Warranty: 1 Year
User Presets: 100
Frequently Asked Questions
What should I do if my new Peterson product doesn't seem to work properly?
If you've first tried all of the solutions offered here, please contact Peterson directly. It is important that you do NOT return the product to the store in which you purchased it without Peterson instructing you to do so. If your unit is problematic, we would like to limit the chances of another customer purchasing the returned unit. Always arrange for product service or replacement directly with Peterson.
Was this helpful?
Help others find this information sooner.
Turning the BBS off.
Contrary to a few reviews online, the BBS-1 does indeed power off by holding the Shift button and the Start/Stop button together for 2 seconds.
This process is also outlined on page 12 of the BBS-1 instruction manual below. BodyBeat Sync Manual BodyBeat Sync Manual The Shift Button is located between the two arrow buttons and is colored the same as the Start/Stop button.
Was this helpful?
Help others find this information sooner.
Updating the BBS firmware
To update the firmware on the BodyBeat Sync, you will need to download two separate files.
The USB Software/Loader is required to load the firmware into the Sync. This will be a .msi installer file for Windows or a .dmg installer file for Mac OS X. Select the one you need for your computer below.
1. Download and install the USB Software/Firmware Loader Utility:
(OS X 10.5+): Download Mac (Win XP/Vista/Windows 7): Download Windows 2. Download the latest firmware release: DOWNLOAD THE FIRMWARE HERE.
The actual firmware will be a .bin file. This file is the same for both Mac and Windows systems. Download this file and make note of where your computer locates it. You will need to navigate to it in the steps below. YOU ARE NOT DONE. PLEASE FOLLOW THE DIRECTIONS BELOW TO LOAD THE FIRMWARE INTO THE BODYBEAT SYNC.
Firmware Installation Instructions: 1. Turn off your BodyBeat Sync before connecting it to your computer.
2. Press and hold the Tempo button while connecting the BodyBeat Sync to your computer using the provided USB cable. (If your BodyBeat Sync does not power on automatically, press and hold the Tempo Button, then press and hold the Start/Stop Button to power on.)
3. Once connected, the BodyBeat Sync will power on in Update Mode, and the Updating Icon will appear in the lower right corner of the LCD display after the computer recognizes and installs the device automatically.
4. Open the BodyBeat Sync USB software. (Windows XP users only: you will need to manually select "USB Audio Device" for the MIDI In and MIDI Out tabs near the top of the software window.)
5. The Load button (lower right-hand side) will initially be greyed out, but once the software connects with the Sync, it will become active. Click Load and browse to the location on your computer where you saved the downloaded firmware update. Select the file to auto-load it.
6. When the update is finished, unplug the USB cable, power the unit off and then turn it back on to complete the process.
Was this helpful?
Help others find this information sooner.
What is the difference between the USB software and firmware?
The BodyBeat Sync BBS-1 metronome is firmware updatable. This means that new features and updates can be loaded into the internal memory of the BBS-1 via the USB port. The latest firmware for you BBS-1 can always be downloaded from our website and we will send email notification to registered users when new firmware is available.
The BodyBeat Sync USB Software is the application that is used on your PC or Mac to transfer the firmware to the BBS-1 hardware via the USB cable. This software can also be used to transfer MIDI Tempo Maps to your BBS-1.
Think of the firmware as the data that runs your BBS-1, and the USB Software as a vehicle to get that data to your BBS-1 Metronome.
Download the latest BBS-1 USB Software for your operating system using the icons below.
Download the latest firmware here. Peterson Strobe Tuners - mac_pc_computer_logo Peterson Strobe Tuners - mac_pc_computer_logo
Was this helpful?
Help others find this information sooner.
My BodyBeat turns on and shuts off immediately?
If your BodyBeat Sync screen comes on when plugged into a USB power supply or the USB jack of a computer and then shuts off immediately, the battery probably needs to be replaced. Peterson Strobe Tuners - BodyBeat Sync battery The BodyBeat Sync uses a standard BL-4B cell phone-style battery, like the one that is commonly used in Nokia phones. If you would like to purchase a spare battery, you can do so from the Peterson online store or purchase it from a local store or internet supplier.
Was this helpful?
Help others find this information sooner.
There are no entries matching your search.
Not finding an answer? Open a support ticket for personalized support of your Peterson product.